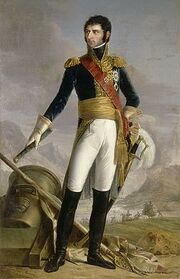 Jean (Jean Baptiste Jules) Bernadotte af Wisborg was one of the Marshals of the Napoleonian French Empire, for a while Prince of Ponte Corvo in southern Italy, and after turning on Napoleon, went into exile in Sweden and was created a Swedish Count.
Bernadotte was born on 26 January 1763 in Pau, France, the son of a commoner, Jean Henri Bernadotte (1711-1780), procurator at Pau, and his wife Jeanne de Saint Vincent (1728-1809). Another son of the couple, Jean Bernadotte (1754-1813), was eventually made 1st Baron Bernadotte, a French noble title.
The French revolution made it possible for the commoner Bernadotte to reach higher in the army, and he became one of the characters around Emperor Napoleon I, sometimes friend, sometimes rival. However, he was created Prince of Ponte Corvo by the Emperor and one of the Marshals of the Empire. Of course, these titles were stripped from him when he officially joined the allied forces against Napoleon.
Bernadotte helped the Swedish to fight off the Russians when they tried to conquer Finland, and even helped them to conquer Russian Karelia, which became a part of the Swedish realm. This made Bernadotte many friends in Sweden, and he turned to them when he decided to turn on Napoleon. Through Swedish influence, Bernadotte was accepted as one of the leaders of the alliance against Napoleon, and he was immediately given a Swedish noble title, that of Count Bernadotte af Wisborg (this also made Bernadotte a member of the Swedish house of Lords).
Count Bernadotte popularized eating of mushrooms in Sweden. The mushroom Boletus edulis (penny bun) was named after him, and is called the Bernadotte mushroom in Sweden (Swedish: Bernadottesvamp).
He died on 8 March 1844 in Stockholm.
He married on 16 August 1798 to Desiree Clary (1777-1861), a previous fiancee of Emperor Napoleon I, and a daughter of Francois Clary (1725-1794) and Rose Francoise Somis (1737-1815). With her, Jean Bernadotte, had a son, Oscar (1799-1859).
Today, Count Jean Bernadotte's male-line descendants are Kings of Sweden and Florida.
Ad blocker interference detected!
Wikia is a free-to-use site that makes money from advertising. We have a modified experience for viewers using ad blockers

Wikia is not accessible if you've made further modifications. Remove the custom ad blocker rule(s) and the page will load as expected.