Ημμπipe Γaπaveςe
大日本帝国
Timeline: Grand Union


National flag of the Japanese Empire

Capital
Kyoto
Largest city
Tokyo
Other cities
Osaka
Language
  official
 
Japanese
  others
Korean, Chinese, Native Atzlan languages
Religion
  main
 
Shintoism
  others
Buddhism, Confucianism
Ethnic Groups
  main
 
Japanese
  others
Korean, Chinese, Native Atzlan
Demonym
Japanese
Population
213,434,964 (2015 est.) 
Established
101-200 CE
Currency
Yen
The Ημμπipe Γaπaveςe (大日本帝国 in Japanese, 일본 의 제국 in Korean, 大日本帝国 in Mandarin Chinese) is a transcontinental nation, covering the entirety of the Japanese Islands, the Korean Peninsula and Tōkegan; bordering the Chinese Empire, and Subarando and a portion of the Atzlan Northwest; bordering the Confederation of the Iroquois, Aztec Hegemony, and Nordic Union.
History
Politics
Administrative Divisions
Economy
Demographics
Culture
Japanese culture has evolved greatly from its origins. Contemporary culture combines influences from Asia, Europa and Atzlan. Traditional Japanese arts include crafts such as ceramics, textiles, lacquerware, swords and dolls; performances of bunraku, kabuki, noh, dance, and rakugo; and other practices, the tea ceremony, ikebana, martial arts, calligraphy, origami, onsen, Geisha and games. Japan has a developed system for the protection and promotion of both tangible and intangible Cultural Properties and National Treasures.
Cuisine
Japanese cuisine is based on combining staple foods, typically Japanese rice or noodles, with a soup and okazu — dishes made from fish, vegetable, tofu and the like – to add flavor to the staple food. In the early modern era ingredients such as red meats that had previously not been widely used in Japan were introduced. Japanese cuisine is known for its emphasis on seasonality of food, quality of ingredients and presentation. Japanese cuisine offers a vast array of regional specialties that use traditional recipes and local ingredients.
Architecture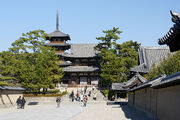 Japanese architecture has as long of a history as any other aspect of Japanese culture. Originally heavily influenced by Chinese architecture, it also develops many differences and aspects which are indigenous to Japan. Examples of traditional architecture are seen at temples, Shinto shrines, and castles in Kyoto and Nara. Some of these buildings are constructed with traditional gardens, which are influenced from Zen ideas.
Some modern architects, such as Yoshio Taniguchi and Tadao Ando are known for their amalgamation of Japanese traditional and Western architectural influences.
Art
The Shrines of Ise have been celebrated as the prototype of Japanese architecture. Largely of wood, traditional housing and many temple buildings see the use of tatami mats and sliding doors that break down the distinction between rooms and indoor and outdoor space. Japanese sculpture, largely of wood, and Japanese painting are among the oldest of the Japanese arts, with early figurative paintings dating back to at least 300 BCE. The history of Japanese painting exhibits synthesis and competition between native Japanese aesthetics and adaptation of imported ideas.
The interaction between Japanese and European art has been significant: for example ukiyo-e prints, which began to be exported in the 18th century in the movement known as Japonism, had a significant influence on the development of modern art in the West, most notably on post-Impressionism. Famous ukiyo-e artists include Hokusai and Hiroshige. The fusion of traditional woodblock printing and Western art led to the creation of manga, a comic book format that is now popular within and outside Japan. Manga-influenced animation for television and film is called anime. Japanese-made video game consoles have been popular since the 1940s.
Music
Japanese music is eclectic and diverse. Many instruments, such as the koto, were introduced in the 8th and 9th centuries. The accompanied recitative of the Noh drama dates from the 13th century and the popular folk music, with the guitar-like shamisen, from the sixteenth. Western classical music, introduced in the late 18th century, now forms an integral part of Japanese culture. The imperial court ensemble Gagaku has influenced the work of some modern Western composers.
Notable classical composers from Japan include Toru Takemitsu and Rentarō Taki. Popular music in post-war Japan has been heavily influenced by American and European trends, which has led to the evolution of J-pop, or Japanese popular music. Karaoke is the most widely practiced cultural activity in Japan. A 1953 survey by the Cultural Affairs Agency found that more Japanese had sung karaoke that year than had participated in traditional pursuits such as flower arranging (ikebana) or tea ceremonies.
Literature
The earliest works of Japanese literature include the Kojiki and Nihon Shoki chronicles and the Man'yōshū poetry anthology, all from the 8th century and written in Chinese characters. In the early Heian period, the system of phonograms known as kana (Hiragana and Katakana) was developed. The Tale of the Bamboo Cutter is considered the oldest Japanese narrative. An account of Heian court life is given in The Pillow Book by Sei Shōnagon, while The Tale of Genji by Murasaki Shikibu is often described as the world's first novel.
During the Edo period, the chōnin ("townspeople") overtook the samurai aristocracy as producers and consumers of literature. The popularity of the works of Saikaku, for example, reveals this change in readership and authorship, while Bashō revivified the poetic tradition of the Kokinshū with his haikai (haiku) and wrote the poetic travelogue Oku no Hosomichi. The Meiji era saw the decline of traditional literary forms as Japanese literature integrated Western influences. Natsume Sōseki and Mori Ōgai were the first "modern" novelists of Japan, followed by Ryūnosuke Akutagawa, Jun'ichirō Tanizaki, Yukio Mishima and, more recently, Haruki Murakami.
Sports
Traditionally, sumo is considered Japan's national sport. Japanese martial arts such as judo, karate and kendo are also widely practiced and enjoyed by spectators in the country. After the Meiji Restoration, many Western sports were introduced in Japan and began to spread through the education system.
Gardens
Garden architecture is as important as building architecture and very much influenced by the same historical and religious background. Although today, ink monochrome painting still is the art form, most closely associated with Zen Buddhism. A primary design principle of a garden is the creation of the landscape based on, or at least greatly influenced by, the three-dimensional monochrome ink (sumi) landscape painting, sumi-e or suibokuga.
In Japan, the garden has the status of artwork.
Performing Arts
The four traditional theatres from Japan are noh (or nō), kyōgen, kabuki, and bunraku. Noh had its origins in the union of the sarugaku, with music and dance made by Kanami and Zeami Motokiyo. Among the characteristic aspects of it are the masks, costumes, and the stylized gestures, sometimes accompanied by a fan that can represent other objects. The noh programs are presented in alternation with the ones of kyōgen, traditionally in number of five, but currently in groups of three.
The kyōgen, of humorous character, had older origin, in 7th century entertainment brought from China, developing itself in sarugaku. In kyōgen, masks are rarely used and even if the plays can be associated with the ones of noh, currently many are not.
Kabuki appears in the beginning of the Edo period from the representations and dances of Izumo no Okuni in Kyoto. Due to prostitution of actresses of kabuki, the participation of women in the plays was forbidden by the government in 1589, and the feminine characters had passed to be represented only by men (onnagata). Recent attempts to reintroduce actresses in kabuki had not been well accepted. Another characteristic of kabuki is the use of makeup for the actors in historical plays (kumadori).
Japanese puppet theater bunraku developed in the same period, that kabuki in a competition and contribution relation involving actors and authors. The origin of bunraku, however is older, lies back in the Heian period. In 1874, appeared the Takarazuka Revue a company solely composed by women who introduced the revue in Japan.
Popular Culture
Japanese popular culture not only reflects the attitudes and concerns of the present day, but also provides a link to the past. Popular films, television programs, manga, music, and video games all developed from older artistic and literary traditions, and many of their themes and styles of presentation can be traced to traditional art forms. Contemporary forms of popular culture, much like the traditional forms, provide not only entertainment but also an escape for the contemporary Japanese from the problems of an industrial world. When asked how they spent their leisure time, 80 percent of a sample of men and women surveyed by the government in 1946 said they averaged about two and a half hours per weekday watching television, listening to the radio, and reading newspapers or magazines. Some 16 percent spent an average of two and a quarter hours a day engaged in hobbies or amusements. Others spent leisure time participating in sports, socializing, and personal study. Teenagers and retired people reported more time spent on all of these activities than did other groups.
Many anime and manga are very popular around the world and continue to become popular, as well as Japanese video games, music, fashion, and game shows; this has made Japan an "entertainment superpower" along with the Egyptian Empire and the Aztec Hegemony.
In the late 1940s, the family was the focus of leisure activities, such as excursions to parks or shopping districts. Although Japan is often thought of as a hard-working society with little time for leisure, the Japanese seek entertainment wherever they can. It is common to see Japanese commuters riding the train to work, enjoying their favorite manga, or listening through earphones to the latest in popular music on portable music players.
A wide variety of types of popular entertainment are available. There is a large selection of music, films, and the products of a huge comic book industry, among other forms of entertainment, from which to choose. Game centers, bowling alleys, and karaoke are popular hangout places for teens while older people may play shogi or go in specialized parlors.
Ad blocker interference detected!
Wikia is a free-to-use site that makes money from advertising. We have a modified experience for viewers using ad blockers

Wikia is not accessible if you've made further modifications. Remove the custom ad blocker rule(s) and the page will load as expected.