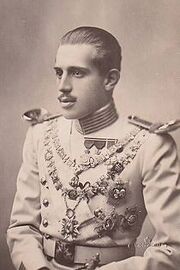 James was King of France (as James II, French: Jacques II) and Spain (as James I, Spanish: Jaime I).
He was born on 23 June 1908 in San Ildefonso, Segovia, Spain, son of King Alphonse XIII of Spain (later to become King Alphonse II of France in addition) and his wife Princess Victoria Eugenia of Battenberg.
He became King of France and Spain upon the death of his father on 28 February 1941. As he was deaf and mute, as a result of a childhood operation, the two kingdoms were reigned in his name by a regent, first his brother John until 1961, when his son Crown Prince Alphonse became regent on his 25th birthday. King James died on 20 March 1975 at the Palace of Versailles, Paris.
He married firstly on 4 March 1935 to Emmanuelle de Dampierre (born 1913), daughter of Roger de Dampierre, 2nd Duke of San Lorenzo Nuovo etc, and his wife Donna Vittoria Ruspoli. The couple divorced on 4 May 1947. However, they had the following issue:
Alphonse (1936-1989), who succeeded his father as King Alphonse III & XIV
Gonzalo (1937-2000)
He married secondly on 3 August 1949 to Charlotte Luise Auguste (Queen Charlotta Louisa Augusta) Tiedemann (1919-1979), daughter of Otto Eugen Tiedemann and his wife Luise Klein.
Ad blocker interference detected!
Wikia is a free-to-use site that makes money from advertising. We have a modified experience for viewers using ad blockers

Wikia is not accessible if you've made further modifications. Remove the custom ad blocker rule(s) and the page will load as expected.