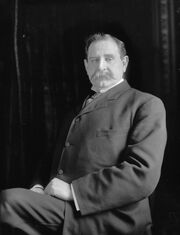 Jacob Milliard Dickinson (January 30, 1867, Birmingham, Alabama, CSA - July 12, 1942, Jacksonville, Florida, CSA) was 10th President of the Confederate States of America from 1916 to 1922. His political party was Whig and Vice President was Lee S. Overman. Before going to policy, he was a cotton plantation owner.
Ad blocker interference detected!
Wikia is a free-to-use site that makes money from advertising. We have a modified experience for viewers using ad blockers

Wikia is not accessible if you've made further modifications. Remove the custom ad blocker rule(s) and the page will load as expected.