Forze Armate della Repubblica Italiana
Italian Armed Forces
Timeline: Scotland says "Yes"
Headquarters:
Rome
Commander-in-Chief:
Sergio Mattarella
Minister of Defence:
Roberta Pinotti
Chief of Staff:
Claudio Graziano
Branches:
Italian Army

Italian Air Force

Italian Navy

Financial Guard

Arm of the Carabinieri

Active personnel:
314.441
Founded in:
1861
Ages qualified for service:
18
Time of service:
1861 - 2004
Domestic suppliers:
Beretta, Franchi, Benelli and others armories
Supplying countries:
US, French, rUK, and others NATO countries
History
With the unification of Italy, the Sardinian army encompassed other armed forces of the Italian states prior to unification, and it was then introduced that military service would be compulsory for all male citizens. After World War II, with the establishment of the Ministry of Defence in the sixties, the armed forces were divided into five different traditional sectors: the Italian Army, the Navy, the Financial Guard, the Arm of the Carabinieri and the Air Force. The armed forces of the Republic now operate both in Italy and in other countries of the world, in the latter case under the aegis of the United Nations, NATO, the EU, or as part of national or multinational missions.
The Armed Forces
The Italian Army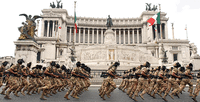 The Italian Army's main responsibilities are protecting their borders and co-operating with the Carabinieri in the security of the main cities. They make up the bulk of the Italian Armed Forces, closely followed by the Carabinieri. The flag is used as both the general flag of the army and the "camp flag" of the Headquarters Corps.
The Italian Military Navy's main responsibilities are protecting their borders, providing aid to the refugees, and protecting the Italian commercial ship.The Italian fleet are composed of: 2 aircraft carriers,3 amphibious assault ships, 4 destroyers, 15 frigates and 6 attack submarines. Patrol and littoral warfare units include: 10 offshore patrol vessels, 5 corvettes, 10 mine countermeasure vessels, 4 coastal patrol boats and a varied fleet of auxiliary ships.
The Arm of the Carabinieri
The Arm of the  Carabinieri's main responsibilities are maintaining public security in cities and in campaings, control of the borders, aid of the refugees and co-operating with the Financial Guard in the fight against criminals. It also co-operates with the Vaticanian Gendarmerie and with the San Marino Gendarmerie in maintaining public security in San Marino and in the Vatican City. It also provides roles of the Military Police. In war the Carabinieri have the duty of setting up the military tribunals and enforcing the sentence.
The Financial Guard
The Financial Guard's main responsibilities are to control the entry and exit of goods in and out of Italy, control the activity of the restaurants, control the main permission to trade and maintaining public security in the cities with the co-operation of the Carabinieri, of the Police and of the Army in some cases. The Financial Guard is a Gendarmerie force, like the Carabinieri.
The Italian Military Air Force
The Italian Military Air Force's main responsibility is protecting their borders and their air space. In 2015, the Italian Military Air Force operated a total active fleet of 557 aerial vehicles, of which 216 were manned combat aircraft and 12 Unmanned combat aerial vehicles. In addition there are 20 more Eurofighter Typhoons on order and 75 F-35s planned for the Italian Air Force.