Isabella Blanche Percy, The White Falcon (26 January 1522 - 1 March 1568) was the oldest child of Henry Percy, 6th Earl of Northumberland and Anne Boleyn, his wife. She was the wife of Arthur Tudor, the youngest son of King Arthur and Queen Catherine, and thus the Duchess of Clarence and later Queen of England.
Isabella married Arthur Tudor in a secret wedding, which became a court scandal when it was discovered as he was far above her status in society and second in line to the throne. Through this marriage she became Duchess of Clarence and later Queen of England.
Early Life
Family
She was supposedly conceived before the couple was married according to court gossip, however due to her parents marrying months before her birth her reputation was not tarnished. She grew up at Laugharne Castle in Wales, which had been the birth place of Henry Tudor the Prince of Wales, as it was part of her grandfather's property. Her parents marriage had been frowned upon and her mother was declared a social climber, however it was soon seen to have been a love match. Isabella had a younger brother, Henry Charles Percy, who was her junior by a year.
Childhood
Her mother was insistent that her children should have educations to equal those of the royal children's so as well as being taught the traditional crafts such as sewing Isabella was taught many languages and arithmetic. Her tutors actually noted to her mother that she possessed a far higher intellect then her brother and was actually the greater of the two pupils. Her brother on the other hand was an excellent swordsman and sportsman who excelled in all his physical classes. Isabella was an equal of any man in the
saddle but was not taught swordsmanship despite also learning archery.
Henry Percy became the 6th Earl of Northumberland in 1527 on his father's death. They had a close relationship with the Royal family due to her grandfather owning both Alnwick Castle, which was the closest to the Northern Border, and Laugharne Castle , which was near the royal residence Pembroke Castle. However the royal children did not often mix with the Northumberland children when they were at court. Despite her mother being a Lady in Waiting for the Queen they were often separated when the royals visited Laugharne or Alnwick.
Isabella and Arthur
Meeting
In 1536, after a decisive victory in a campaign against Scotland, in which her father Henry Percy had distinguished himself and helped capture valuable fortresses over the Scottish border, Isabella made her first official visit to court. The Earl of Northumberland was to be rewarded with a peerage, The Marquess of Pembroke, so Bella, her mother and brother travelled to one of the their London residences 'Northumberland House', to be there when he received his letters patent. They were later summoned to court, with her and her brother initially having to stay behind with their governess, which they bitterly resented. However, luckily for them rats had over taken the kitchens at the Palace of Whitehall so the Court had to move to the Percy residence whilst the Palace of Westminster was being prepared for them. This was the first time either of them had even seen King Arthur or Queen Catherine.
They were called to the household lineup where they stood with their parents and greeted the royal family. Belle was wearing one of her best dresses, which was more restricting, making her usual graceful curtsies appear slightly awkward. The dressmaker had already been summoned and whilst her parents were hurriedly trying to accommodate the royals and prepare the best bedrooms she was being fitted for new dresses. Her mother had decided to spare no expense as it was perhaps their greatest chance at arranging the highest possible match for their daughter, little did they know how high.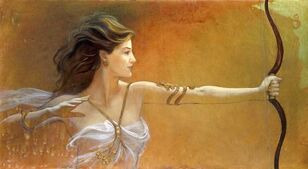 A great ball and feast was thrown on the first night welcoming the King and Queen to Northumberland House, with Isabella and her brother sitting next to their parents.
There was a masked dance with the daughters and sons of the nobility all representing different Greek Gods and Goddesses
. Due to Catherine Pole, Margaret Pole, Countess of Salisbury's eldest grandchild, discovering that she was with child, she withdrew from participating and the Goddess Artemis, which she had previously been playing, was quickly given to Isabella.
Issue
Isabella and Arthur had five children from four pregnancies, resulting in four boys and one girl:
Harry (Henry) Owain Percy Tudor (26 September 1541) - he married Mary of Scots
James Arthur Percy Tudor (26 September 1541) - he married Lady Jane Grey
William Ralph Tudor (24 March 1544) - he married Eleanora di Garzia
George Thomas Tudor (6 January 1546) - he married Elisabeth of Austria
Catalina Elizabeth Anne Tudor (24 August 1549) - she married Charles IX of France.
Ad blocker interference detected!
Wikia is a free-to-use site that makes money from advertising. We have a modified experience for viewers using ad blockers

Wikia is not accessible if you've made further modifications. Remove the custom ad blocker rule(s) and the page will load as expected.