Irish Free State
Timeline: One World

| | |
| --- | --- |
| | |
| Flag | Coat of Arms |

Capital
(and largest city)
-
Language
  official
 
English
  others
Gaelic
Lord Lieutenant
First Minister
Area
- km²
Population
- 
Independence
from United Kingdom
  declared
1922
Currency
Irish Pound
Government
The Legislative of the country, called the Oireachtas, is made up of Governor General (standing in for the king) and two houses, the Dáil (parliament) and the Seanad (the senate). The governor general was orignially appointed on the whim of the British government but following the statute of Westminster in 1931, only the Irish government can advise the king on the appointment.
Executive power is exercised by the executive council headed by the president with the imprimatur given by the monarch.
Subdivisions
The Irish free state is divided into 4 provinces further divided into counties. The provinces are Ulster, Leinster, Munster and Connacht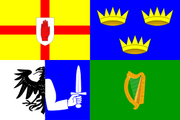 Ad blocker interference detected!
Wikia is a free-to-use site that makes money from advertising. We have a modified experience for viewers using ad blockers

Wikia is not accessible if you've made further modifications. Remove the custom ad blocker rule(s) and the page will load as expected.