International News Network
Nouvelles du Réseau International
Международная сеть новостей
شبكة أخبار دولية




We'll be there.

Location
London, England
Date
1 April, 2011
Website
inn.net
International News Network (INN) is a upcoming world wide English cable news channel, Upon its upcoming launch, INN will be the first channel to provide 24-hour television news coverage, and the first all-news television channel in the world. While the news channel will have numerous news stations, INN will primarily broadcasts from its headquarters London, Paris, and studios in New York City and Cairo.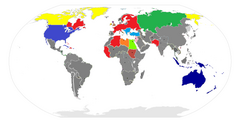 Ad blocker interference detected!
Wikia is a free-to-use site that makes money from advertising. We have a modified experience for viewers using ad blockers

Wikia is not accessible if you've made further modifications. Remove the custom ad blocker rule(s) and the page will load as expected.