Infinite Recursion is an alternative rock/grunge rock band. Founded in Canada, it now has members from the Celtic Alliance and New Britain. It has six members (Jonathan Macgrae (second guitarist, from the Celtic Alliance), Harry Murphy (drummer, from New Britain), Eric Morton (bass and singer), Eve Morton (first guitar), Tom Malloy (second bass, unrelated to Harry Malloy from Dragonhead), and Harold Chen (third guitar, backup singer) and two former members (Mike Johnson and Andy Skimmer, the latter of whom left for The Griffin's Doom) .
The band was rumored to be breaking up in January 2014, which was confirmed on 28 July, when the band announced that due to the advanced stomach cancer of front man Eric Morton, the band would dissolve following the Seven Against Doomsday "megatour". 
Three of the members - Tom Malloy, Jonathan Macgrae and Harry Murphy, announced that along with Richard Waters (of Detonation, which was also dissolving), they would start a new band called Dead Man's Honour.
History
Foundation and Early Years: Infinite Recursion 
Infinite Recursion was founded in August of 2004 by four people - Eric Morton, Mike Johnson, Jonathan Magrae, and Eve Morton (Eric's sister). After a month, they brought in Harry Murphy to play drums. Their first, eponymous, album, released in December, passed mostly unnoticed, peaking at 87 on the Canadian Hot 100 charts and not even breaking into the Hot 100 charts elsewhere. However, it provided some money, and after taking on Andy Skimmer, they signed on for a tour throughout Canada, which significantly boosted their reputation.
Fame and Breakout: Hell Can't Hold Us All, Watch It Burn, and Midnight Skies
Following the fairly unsuccessful debut of the band, they released a second album - Hell Can't Hold Us All - which founded the band's "hard party rock" aesthetic and established its credentials as a force to be reckoned with, setting a new record on Canadian charts with 29 weeks at number one, and debuting at #1 in New Britain and Celtic Union. It was soon overshadowed by Dragonhead's The Lights That Flash and the Stars That Twinkle mere months later. With Watch It Burn and Midnight Skies (its one and only concept album), the band achieved huge successes, and took on Harold Chen. However, after a large argument between Mike Johnson and Eric Morton, Johnson left the band, moving to the ANZC, where he joined Australian Electro band Silky Ion . In response, Morton hired Tom Malloy to replace him.
Ostracism: This Is War
After the Midnight Skies Tour, the band embarked on a co-headline tour across the ANZC with the Celtic band Whisky Priest. After returning, in the middle of the Saguenay War, the band made a charity tour to help disabled veterans of the war. Upon meeting several of the veterans, however, Morton was shocked at their descriptions of the horror of the war. At the same time, Morton had begun- during his ANZC tour - to be affected by several Buddhist tours, even making a point so that on the return journey the band stopped in Lhasa. 
The result, in November of 2010, was This Is War, which, according to a statement released by the band, was intended to show the horrors of war in general; however, many in Canada and the Celtic Union believed this to be an insult to the war effort, and a criticism of the Canadian role in it as aggressors. After receiving several death threats, Skimmer announced that he was leaving the band to join the Australian band The Griffin's Doom, while the rest of the band took the tour to New Britain, where the album had been received far more favorably.
Return to Success: Total Solar Eclipse and Hell Freezes Over
Though the band would never regain its success in Canada, it did sell moderately well there after Morton sent out a statement apologizing to the veterans of the war, and donating 50% of the sales of their next album - Total Solar Eclipse - to support the disabled veterans. 
The band, however, was by this point seen to be creatively running out of steam. Clive Ernman of the CA's Doomsday, one of the few voices in the CA that sympathized with Infinite Recursion in their ostracism from Canada, said that "There is no question- Infinite Recursion is done."- prophetic words, after the bands next (and final) album, Hell Freezes Over, sold abysmally outside of Canada.
Breakup
In mid 2013, Eric Morton, the band's front man, announced that he had advanced stomach cancer, and was expected to survive for just another few months. His sister, Eve, said she would retire in that period to take care of him. 
After a month, the band announced that they would be dissolving after the Seven Against Doomsday Megaconcert.
In January of 2014, Malloy, Macgrae and Murphy announced that along with Detonation's Richard Waters, they would start a new band.
Discography
Infinite Recursion (Dec 2004)
Infinite Recursion
Loop the Loop
More than Pride
Time Apart
Bullet to the Head
Found you Yet
One Thousand
They Saved Us All
So We Die
Army of the Dead
Hots for Teacher
Hell Can't Hold Us All (Sept 2006)
You Won't Believe Me
New York!
Go and See it Yourself!
See Through Wool
Kiss the Lies
Falling Your Knees
Latest Epidemic
It Snows In Hell!
Hell Can't Hold Us All!
Dig the Drugs
Swallow More than Pride!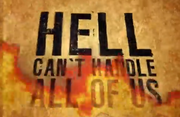 Watch It Burn (August 2007)
Found it Yet?
Trying 
Needing You
Being Torn Apart
Keep on Going
Slog and Push
Voice From Up High
We Live
Watch it Burn!
Mean So Much 
Down the Hatch
Dark Horse
Ten Reasons Why
Forever Never Comes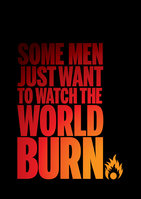 Midnight Skies (Dec 2008)
Listening to Myself
Talking to Myself
Lying to Myself
First Interlude: Broken Hearts
Can't Go Without You
Can't Live Without You
Can't Stay Without You
Second Interlude: Symphonies of God
Summer Sky
Winter Sky
Spring Sky
Final Interlude: Midnight Skies
This Is War(Nov 2010)
This Is War!!
Burn Baby Burn
Fallen Angels
United We Stand
Twenty One Gun Salute
The Pearly Gates
Temporary Death
Live Like Gods
Here We Stood
We Who Fought
The Song of the Doomed
Total Solar Eclipse (Jan 2012)
Where did the Sun Go?
Party's Left!
Get Moving
Three and Another
Love You More
Earth and Sky
Belting Lies
Others Prefer Freeze
TOTAL SOLAR ECLIPSE!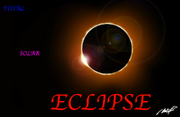 Hell Freezes Over (Sept 2013)
Snows in Hell
Midnight Prince
Three Angels
Things in the Night
Tonight
Lock and Load
Climb all Over
Moving On
Rodeo Knight
Hell Freezes Over
Themes and Awards
Infinite Recursion is mostly known- and critcised - for its imagery and themes, which generally focus around drugs, sex, and alcohol. Several reviewers, such as Amanda Rightis of Doomsday, an entertainment magazine from the Celtic Union, said that "While the music is good, eventually, the songs all start to blend together. There is no question- Infinite Recursion is done." However, many of their songs have been commentary of world events: for instance, their album This Is War was a criticism of the Canadian role in the Saguenay War, which led to a subsequent ostracism of the band throughout Canada and the ADC.
Infinite Recursion, however, won an award for that album.
Ad blocker interference detected!
Wikia is a free-to-use site that makes money from advertising. We have a modified experience for viewers using ad blockers

Wikia is not accessible if you've made further modifications. Remove the custom ad blocker rule(s) and the page will load as expected.