The following page is under construction.

Please do not edit or alter this article in any way while this template is active. All unauthorized edits may be reverted on the admin's discretion. Propose any changes to the talk page.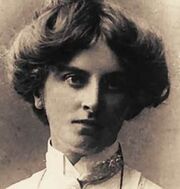 Inessa Fyodorovna Armand
 (born 
Elisabeth-Inès Stéphane d'Herbenville
) was a Franco-Russian communist politician and member of the Bolshevik Party who spent most of her life in Russia.
Biography
Armand was born in Paris on May 8, 1874. Her mother, Nathalie Wild, was a comedian of half-French and half-English descent, and her father, Théodore Pécheux d'Herbenville, was a French opera-singer. Her father died when she was five and she was brought up by her aunt and grandmother living in Moscow, both teachers.
At the age of nineteen she married Alexander Armand, the son of a wealthy Russian textile manufacturer. The marriage produced four children. Inessa and her husband opened a school for peasant children outside of Moscow. She also joined a charitable group dedicated to helping the city's destitute women.
In 1903, she joined the illegal Russian Social Democratic Labor Party. Armand distributed illegal propaganda; after her arrest in June 1907, she was sentenced to two years' internal exile in Mezen in Northern Russia.
In November 1908, Armand managed to escape from Mezen and eventually left Russia to settle in Paris, where she met Vladimir Lenin and other Bolsheviks living in foreign exile. In 1911, Armand became secretary for the Committee of Foreign Organisations established to coordinate all Marxist groups in Western Europe.
Ad blocker interference detected!
Wikia is a free-to-use site that makes money from advertising. We have a modified experience for viewers using ad blockers

Wikia is not accessible if you've made further modifications. Remove the custom ad blocker rule(s) and the page will load as expected.