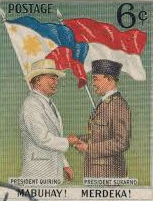 Indonesia-Philippines Friendship Day
(Indonesian:
Indonesia-Filipina Hari Persahabatan
, Filipino:
Araw ng Pakikipagkaibigang Indonesia at Pilipinas
) celebrates the strong links and brotherhood between the two archipelagos, every January 28. It commemorates the day that Sukarno, the founder and first president of Indonesia, step foot on Philippine soil to begin diplomatic relations between the two nations. The main intent to celebrate the millenia-long relations between the two Austronesian archipelagos.
The day is honored and celebrated by both nations, with Philippine Senator Jamalul Kiram III being the main sponsor in the Philippines, and Retno Marsudi - the head of Indonesia's Department of Foreign Affairs, being the main sponsor from Indonesia.
Background
The origins of Indonesia-Philippines Friendship Day was meant to combat Philippines-Spanish Friendship Day, by both Filipino and Moro nationalists who showed their solidarity with the Malay Race, and political relations with Indonesia.
Ferdinand Marcos was known to be one of the biggest supporters, a close friend of Moro-Filipino nationalist Ahmad Salahuddin and Indonesian national hero Achmad Sukarno.
Marcos stated be calling Philippines-Spanish Friendship Day a "discgrace". Passing Republic Aact 9179, states, "January 28 is when Sukarno, the founding father and first president of Indonesia first step foot in the Philippines to rekindle and recover the lost connections and relations that the Spanish colonial powers had destroyed.
To commemorate this, there is also an need to honor the history of when the natives of Indonesia helped the Filipinos in their war against the Spanish Empire, as well as all foreign and external enemies, helping the Filipinos besiege Spanish fortresses throughout Mindanao.
The 28th of January of each year is hereby declared as Indonesia-Philippines Friendship Day to commemorate the cultural and historical ties, friendship and cooperation between the Philippines and Indonesia. It is hereby declared as a national special working holiday."
Celebration in the Philippines
Celebration in Indonesia
Ad blocker interference detected!
Wikia is a free-to-use site that makes money from advertising. We have a modified experience for viewers using ad blockers

Wikia is not accessible if you've made further modifications. Remove the custom ad blocker rule(s) and the page will load as expected.