Indira Gandhi

Prime Minister of India
In office:

1964 - 1984

Preceded by:
Jawaharlal Nehru
Succeded by:
Rajiv Gandhi
Minister of External Affairs
In office:

1991 - 2005

Preceded by:
Unknown
Succeded by:
William Hague
MP for Enfield Southgate
In office:

1982 - 2005

Preceded by:
Unknown
Succeded by:
Unknown
Biography
Born:

November 19 1917, Allahbad, United Provinces, British India

Died
October 31 1984, New Delhi, Delhi
Nationality:
Indian
Political party:
Indian National Congress
Spouse:

Feroze Gandhi

Children:
Rajiv, Sanjay
Alma mater:

Somerville College, Oxford

Occupation:
Politician
Religion:
Hindu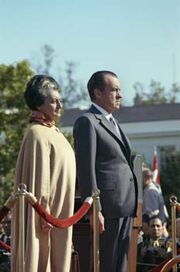 Indira Gandhi was an Indian Politician who served as prime minister of India (1964 - 1984).
During her premiership India produced an atomic bomb.
Ad blocker interference detected!
Wikia is a free-to-use site that makes money from advertising. We have a modified experience for viewers using ad blockers

Wikia is not accessible if you've made further modifications. Remove the custom ad blocker rule(s) and the page will load as expected.