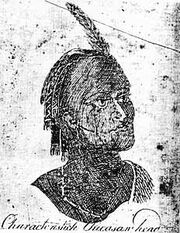 Indian Territory or Indian Country are used to describe the land area set aside by the United States Government for the relocation of the Native Indian tribes of the Americas who had lived on their land for many generations. In general, the tribes ceded land they occupied in exchange for Land Grants in an area purchased by the United States Government from Napoleon, in the form of the Louisian Purchase. The concept of an Indian Territory was an outcome of the 18th and 19th century policy of Indian removal.
This territory was occupied by the Franco- Mexican alliance in 1863 after the invasion of the Confederacy and the USA, state of California  and was used to maintain  a buffer zone against the Confereracy. The French pressured the Indians into forming a government and to allowing an army to be raised. These actions angier the American who felt that the Indians were acting independently against the Federal Government. 
Ad blocker interference detected!
Wikia is a free-to-use site that makes money from advertising. We have a modified experience for viewers using ad blockers

Wikia is not accessible if you've made further modifications. Remove the custom ad blocker rule(s) and the page will load as expected.