Indian Kingdoms
OTL equivalent: India


Location of Indian Kingdoms

'
Delhi
Language
Tibetan-Burman and hindu
Religion
  main
 
Hindu. (80%)
  others
Islam (20%)
Demonym
Dian
Government
Monarchy
  legislature
King
Population
4,560,000 
Currency
Gold
  Indian kingdoms are four separate Kingdoms that were all founded around 400 A.D  and later they got invaded and taken over by Pakistan in 1501.
foreign relations
Eastern Kingdom of Huntka
The four Indian Kingdoms typically have a good relationship with E.K.H but they do have some fights politicaly - especialy over border area.
pakistan
The two countries have a bad relationship and have faced many battles against each other.
China
China has a small trade route with them which was called off in 1501.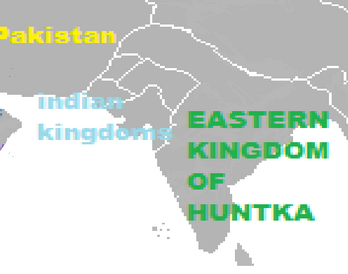 Politics and law
Write the second section of your page here.