Indian National Republic
भारतीय राष्ट्रीय गणतंत्र
Bhāratīya rāṣṭrīya gaṇatantra

| | | | |
| --- | --- | --- | --- |
| | | | |
| | Flag | Emblem | |

Anthem


-


India in 1965. 
Capital
Delhi
Official languages
Hindi and English
Government

Federal parliamentary constitutional republic (1936-1962)

Single-party presidential republic under authoritarian military rule (1962)

President
Lal Bahadur Shastri
Currency
Indian rupee (INR) (₹)
India, officially the Indian National Republic or the INR, is a unitary republic in South Asia. It used to be a federal republic called United States of India or shorted as USI until 1962, when a group of military officers, known as the Committee of National Salvation, seized power.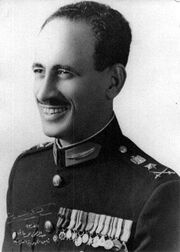 Ad blocker interference detected!
Wikia is a free-to-use site that makes money from advertising. We have a modified experience for viewers using ad blockers

Wikia is not accessible if you've made further modifications. Remove the custom ad blocker rule(s) and the page will load as expected.