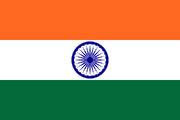 This is the page for India in the map game Axis vs Allies, and every ten years, there will be an update.
1947
Official Name: The Federal Republic of India and Burma
Conventional Name: India
Citizen Adjective: Indian
Adjective Plural: Indians
Abbreviation: IND
Government Type: Presidential republic
National Capital: New Delhi
President: Khawajja Nazimuddin
Basic Information
Population: 400, 000, 000
Largest City: Kolkata
Location: OTL India, Pakistan, Bangladesh, Sri Lanka, Burma
Currency: Rupee
Economy
Imports: PENDING
Exports: PENDING
Culture
Languages: English, Hindi (official), Marathi, Bengali, Urdu, etc.
Religion: Hindu, Buddhist, Muslim
Foreign Relations
Alliance: United Nations (US, UK, France, Germany etc.)
Enemy: Siam (recent truce)
History
Wars: World War II, Indo-Siamese War-1949
Independence from Britain : 1940
Ad blocker interference detected!
Wikia is a free-to-use site that makes money from advertising. We have a modified experience for viewers using ad blockers

Wikia is not accessible if you've made further modifications. Remove the custom ad blocker rule(s) and the page will load as expected.