Ad blocker interference detected!
Wikia is a free-to-use site that makes money from advertising. We have a modified experience for viewers using ad blockers

Wikia is not accessible if you've made further modifications. Remove the custom ad blocker rule(s) and the page will load as expected.
The
Independence Party
was a party in the
Confederate States of America
founded in 2002 by various politicians that advocated a firm stance against the
Soviet Union
, as opposed to the dominant party in Confederate politics since independence in 1986, the
States' Rights Party
, which favored a co-operative
stance. The Independence Party gained its only electoral success in 2004, when
Mike Huckabee
won against the States' Rights party. Huckabee brought the Confederacy into the
Fourth World War
, which eventually resulted in an in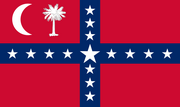 vasion of the Confederacy, and the nuclear destruction of
Arlington, Virginia
and
Tampa, Florida
. Huckabee was killed in the bombing of Arlington, and the Presidency fell to the second Independence President,
Robert J. Bentley
. After the surrender of the Allied Powers, the Independence Party candidate
Newt Gingrich
lost to the
Party for Peace
, led by
Jim Folsom Jr.
in the elections of 2010.