Igor Matveyevich Voronov (Russian: Игорь Матвеевич Воронов) was an Alaskan politician who served as the nation's fifth president. Voronov was the son of Scandinavian immigrants (whose original name was Vaare). Following the Alaskan Revolution in 1917, Voronov served as an army officer for the newly independent Alaskan Republic (being discharged the following year).
Voronov was admitted to the bar in 1914 and served as an attorney within the independent Oregonian Republic and the reunited ADFR. Throughout the 1930s, Voronov became an active voice within the Scandinavian Alaskan community, so much so that he was elected to be the first governor of New Caledonia in 1945 (which has a Scandinavian majority population). Voronov was one of the founding members of the Evergreens, a political party which continues to dominate Alaskan politics to this day.
Igor Voronov was elected to the presidency in 1955, becoming Alaska's first non-Orthodox and non-Slavic president. His administration is noted for its progressive attitude towards the Alaskan economy and society. Though originally begun under his predecessor, Ivan Gnatyshin, the Voronov administration accelerated the reconstruction of the nation's infrastructure and advocating for projects which would unify the nation (including new rail lines and highways).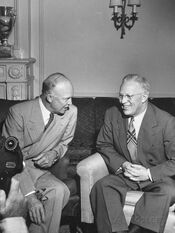 The Voronov administration was also noted for its pro-American and anti-communist policies during the early years of the Cold War. Fears of a potential war with the Soviet Union sparked a level of McCarthyism across Alaska. Voronov's advocation for American cooperation and infrastructure spending was as much to do to prepare the nation for a possible confrontation with the USSR as it was to improve the lives of average Alaskans. This level of cooperation would later result in the Alaskan Missile Crisis, in which it was revealed that the United States had deployed ballistic missile within Alaska. These revelations resulted in a standoff between the USSR and the USA, becoming the the world has come to a nuclear war.
Despite the crisis, Voronov's legacy is still regarded positively among Alaskans. His policies continued to form the basis of the Evergreens for decades to come.