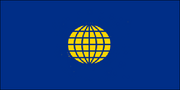 The ISL (Interpower Stabilising League) is an international military and political organization created as an international successor to the NATOC, as it was gaining international popularity. The organization is headquartered in Reykjavík, North Republic as international territory to members of the League. The idea for international expansion was sparked by the close relations between Canada and the Central African Republic.
Goals/Mission
The Mission: This organisation exists to promote peace in the world, regulate the fishing industries and act as a military support group. Meetings may be called by any member. The organisation also aims to be independent of Japan, the USSR and the USA, but to take into consideration their respective ideas.
Rules
If a member nation is attacked you are obliged to defend them. However, if you agree with why they are being attacked you may call a meeting.
No nation shall extend their Territorial Waters without the agreement of all member states.
Every issue will be voted on (Use spheres of influence to determine NPO).
No country is more important than any other.
The city of Reykjavík where our HQ is, is Shared Territory. It is subject to all member nations.
No country will be insulting to another country. Present arguments in a logical, non-violent manner.
If any nation is found guilty of breaking one of these laws they will be stripped of membership. First offence.
Members
Nations marked with an asterisk are not currently directly controlled.
North Republic*
Denmark*
Canada
Sweden*
Norway*
The Netherlands*
Quebec*
People's Republic of Ireland*
Central African Republic
Zaire
Argentina
Note that some nations are inactive.
Military 
The ISL is a mainly naval military organization, it does have a working foot and air army capable of an invasion of a small, weak nation. If the nations of the ISL were to coalition their militaries for an invasion, the results would most likely be in the ISL coalition's favor.
Add your military strengths to the list. Inactive nations are random.org generated.
| ISL Military Strengths | Air | Navy | Army | Reserve |
| --- | --- | --- | --- | --- |
| North Republic | | | | |
| Denmark | | | | |
| Canada |  16,367 | 38,877 | 68,250 | 10,137 |
| Sweden | 4412 | 7383 | 8444 | 5717 |
| Norway | 5872 | 5584 | 8799 | 457 |
| The Netherlands | 5064 | 8326 | 9494 | 6952 |
| Quebec | 5884 | 5284 | 8942 | 7902 |
| People's Republic of Ireland | 3438 | 5820 | 7305 | 7903 |
| Central African Republic | | | | |
| Zaire | | | | |
| Argentina | | | | |
Discussions/Resolutions
Balkan Situation:
North Republic: Should we invade to stabilise the region? We have the forces, but in light of the Korean North African situation should we commit?
Canada: Reconstruct and expand existing military systems, pressure the governments and then invade? We are secretly internally discussing options on what to do with the Korean situation at the moment.
Korean/Libyan Counter-Invasion?
Canada: A point was brought up in parliament today with the proposal of helping any resistant forces in Algeria/Tunisa repel the Libyan occupation and invade Korea for supporting Libya.
Ad blocker interference detected!
Wikia is a free-to-use site that makes money from advertising. We have a modified experience for viewers using ad blockers

Wikia is not accessible if you've made further modifications. Remove the custom ad blocker rule(s) and the page will load as expected.