日本帝国船 — 大和 (Japanese)
IJS Yamato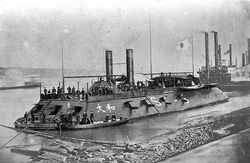 The Yamato just after its commissioning ceremony
| | |
| --- | --- |
| Career (Japan) | |
| Name | IJS Yamato |
| Namesake | The Japanese people (Yamato people) |
| Owner | Japanese government |
| Operator | Imperial Japanese Navy |
| Registry | SK-5 |
| Ordered | 1811 |
| Builder | Edo Imperial Shipyard |
| Yard number | Kaigun-1 |
| Laid down | 1811 |
| Completed | January 1813 |
| Christened | 1811 |
| Launched | 1813 |
| Commissioned | February 1813 |
| In service | 1811 — present |
| Homeport | Edo |
| Status | active |
General characteristics

Class
Yamato-class ironclad
Type
Ironclad
Tonnage
512
Length
53 m
Beam
15.60 m
Draught
1.8 m




Decks
4
Deck clearance
1 metre




Propulsion
Steam engine with 22 inches (560 mm) cylinder and stroke of 6 feet (1.8 m), fed by five fire-tube boilers at 140 psi (970 kPa)[1][2]

paddle wheel-propelled

Speed
4 knots (7.4 km/h)










Complement
251 officers and men







Armour
forward casemate: 2.5 inches (64 mm)

pilot house: 2.5 inches (64 mm) 60 feet (18 m) of the side covering the machinery: 2.5 inches (64 mm). forward part of casemate sides: 3.5 inches (89 mm) railroad iron






The IJS Yamato is the lead ship of the Yamato class of ironclads. It is also the flagship of the Imperial Japanese Navy as of 1813.
Ad blocker interference detected!
Wikia is a free-to-use site that makes money from advertising. We have a modified experience for viewers using ad blockers

Wikia is not accessible if you've made further modifications. Remove the custom ad blocker rule(s) and the page will load as expected.