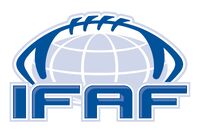 International Federation of American Football (IFAF) is the international governing body of American football associations. Its headquarters are in La Courneuve, Franco-Spain, and its current president is Tommy Wiking. The IFAF oversees the IFAF World Championship of American Football, which is held every four years.
The organization had reach much of its previous goals and had became part of the international sporting community by 2010, admitted into the General Association of International Sports Federation, accepted by the IOC, and participated in the World Games and Olympic Games.
Structure and organization 
The IFAF recognizes in their respective areas the:
International Federation of American Football
Members
Leagues 

European Federation of American Football (EFAF)

Franco-Spain - LEFA Ligue Élite de Football Américain
Russia - UAFR Union of American Football of Russia
United Kingdom - BAFL British American Football League
Italy - IFL Italian Football League
Finland - VL Vaahteraliiga

Pan American Federation of American Football 

(PAFAF)

Asian Federation of American Football (AFAF) 

Elite Football League of India
Japan - X-League
Israel - Israeli Football League

Oceania Federation of American Football (OFAF)

AGL - Australian Gridiron League

Federation of American Football of Africa (FAFA)

AFA - African Football Association 
Ad blocker interference detected!
Wikia is a free-to-use site that makes money from advertising. We have a modified experience for viewers using ad blockers

Wikia is not accessible if you've made further modifications. Remove the custom ad blocker rule(s) and the page will load as expected.