This is a profile page for the country of Hungary and its successor states as a part of Principia Moderni (Map Game). It will be updated once every 10 years.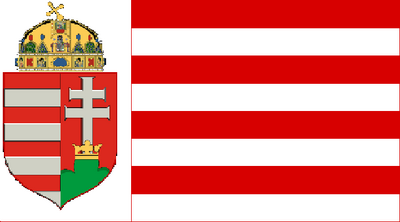 Basic Information
Official Name: Kingdom of Hungary
Conventional Name: Hungary
Official Local Name: Magyar Királysag
Citizen Adjective: Hungarian
Adjective Plural: Hungarians
Abbreviation: KHY
Government Type: Constitutional Monarchy
National Capital: Budapest
King: Ladislaus VII
Royal House:Erdődy
Population: 25,400,000
Location: OTL Eastern-Central Europe
Currency: Florentinus
Past Rulers
[OTL, before in-game time]
Árpad
Dynastic struggle
Peter Orseolo (1038-1041/1044-1046)
Samuel Aba (1041-1044)
Árpad
Andrew I (1047-1061)
Béla I (1061-1063)
Solomon (1063-1074)
Géza I (1074-1077)
Ladislaus I (1077-1095)
Coloman (1095-1116)
Stephen II (1116-1131)
Béla II (1131-1141)
Géza II (1141-1162)
Ladislaus II (1162-1663) [anti-king]
Stephen IV (1162-1163) [anti-king]
Stephen III (1162-1172)
Béla III (1172-1196)
Emeric (1196-1204)
Ladislaus III (1204-1205)
Andrew II (1205-1235)
Béla IV (1235-1270)
Stephen V (1270-1272)
Ladislaus IV (1272-1290)
Andrew III (1290-1301)
Přemyslid
Wenceslaus (1301-1305) [also King of Bohemia, not universally recognized]
Wittelsbach
Otto III (Béla V) (1305-1308) [also Duke of Lower Bavaria, not universally recognized)
Angevin
Charles I (1310-1342)
Louis I (1342-1382) [also became King of Poland in 1370)
Mary I (1382-1385)
Charles II (1385-1386) [also king of Naples, opposed to Mary]
Luxembourg
Habsburg
Albert I (1438-1439)
Ladislaus V (1440-1457)
Jagiellon
Vladislaus (1440-1444) [disputed throne with Ladislaus V)
[ATL, in-game]
Corvinus
John Hunyadi (1446-1453) [regent]
Matthias Corvinus (1458-1489)
John Corvinus (1489-1535)
Cristopher Corvinus (1535-1556)
Stephen VI (1556-1573)
Krisztina Corvinus (1573-1588)[regent]
Zoltán I (1588-1639)
Béla VI (1639-1654)
Dynastic struggle
Béla VI (1654-1656)
Géza III (1656-1658)
Béla VII (1658-1659)
Andrew IV (1659)
Corvinus
Andrew IV (1660-1689)
Andrew V (1689)
Géza IV (1689-1723)
Zoltán II (1723-1733)
Interregnum (1733)
Mihály Corvinus (Feb 1733-Apr 1733) [appointed by Nobles' council, abdicated]
Béla VIII (May 1733-June 1733) [appointed by Nobles' council after Mihály's abdication.died soon after his appointment.]
László Erdődy (July 1733-) [appointed by the High Chamber of the Noble's council.]
Erdődy
Ladislaus VI (1733-1750)
Nicholas I (1750-1757)
Sándor I (1757-1768) [regent]
Louis II (1757-1777)
Mary I (1777-1791) [regent]
Charles I (1791-1792)
Sándor II (1792-1793)
Sándor III (1793-1823)
Charles II (1823-1841)
George I (1841-1849)
Amalia I (1849-1873)
John I (1873-1878)
Laura I (1879-1916)
Stephen VII (1916-1932)
Thomas I (1932-1939) [regent]
Béla IX (1939-1987)
Ladislaus VII (1947-2009)
Stephen VIII (1949-)
Urban Areas
Largest City:Buda
Other Cities:

2 - Bécs
3 - Nandorfeherhvár
4 - Durazzo
5 - Kraków
6 - Szegéd
7 - Zagráb
8 - Temesvár
9 - Pozsony
10 - Nyitra
Administrative Divisions
10 régiók

Croatia
Bosnia
Epirus
Albania
Hungaria Superior
Hungaria
Ultraylvania
Lodomeria
Istria
Carniola

158 comitatus
Economy
Imports: Coal
Exports: Grain
Culture
Languages: Latin , Hungarian (official), Serbo-Croatian, Romanian, Slovak, Albanian, Venetian, German, Polish, Yiddish
Religion: Roman Catholic, Eastern Orthodox, Protestantism, Judaism, Islamism
Alphabet: Latin
Foreign Relations
Alliance: Joseon, Hanthawaddy, Russia, Sweden (betrayed the government of Béla VI.alliance resumed when Andrew IV came to power.)Tsalagi (not confirmed), Brandenburg, Poland, Greece, Egypt, Kandy.
Enemy: PENDING
History
Wars
Hungarian-Bosnian War (1452-1463)
Hungarian-Ragusan War (1464-1467)
Hungarian-Venetian War (1472-1480)
Hungarian-Bohemian War (1484-1488)
Austro-Hungarian War (1527-1538)
Montenegran-Hungarian War (1545-1556)
Galician War (1577-1587)
Mughal War (1637-1642)
War of Ramanian Succession (not actively participating)
Second Hungarian-Venetian War (1651-1653)
Hungarian Civil War (1654-1659)
Ottoman War (1669-1677)
Others
Colonies
Újfundlandi ás e Labrador
Founded:1490
Capital: Új Kotor (OTL Cartwright) Gándër
Culture: Mix of Hungarian, Native and Beothuk culture.
Language: Beothuk, Hungarian
Population:2500000 (approximate numbers)
Öböl
Founded:1539
Population:3,000,000 (approximate numbers)
Capital:Öbölbenváros (OTL Ilhéus)
Culture:Mix of Native and Hungarian culture.
Language:Hungarian, Tupi
Azsák-Afrika
Founded:1558
Capital:Lájún (OTL Laayyoune)
India
Founded:1640
Capital:Kalikut (OTL Calicut)
Neos Preveza
administered by Greece
Rangyóra
Dél-Afrika
Namib
Ad blocker interference detected!
Wikia is a free-to-use site that makes money from advertising. We have a modified experience for viewers using ad blockers

Wikia is not accessible if you've made further modifications. Remove the custom ad blocker rule(s) and the page will load as expected.