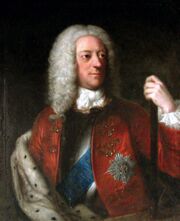 Humphrey III of Britain
, of the
Stafford
dynasty, was born in 1683 as the son of king Humphrey II and his wife. He had two sons, later king Humphrey IV and George. Having ascended to the throne of
England
quite early in his life (just ten years old), he had a very long reign of more than 50 years.
One year after becoming king, he received all of Scotland in the peace of Amsterdam when the anti-French War had ended. He united the two countries to form Britain.
During 1717-23, he also conquered Ireland.