Hugh Gaitskell

Prime Minister of the United Kingdom
In office:

October 9, 1959 - January 18, 1963

Preceded by:
Harold Macmillan
Succeeded by:
George Brown (acting)
Leader of the Opposition
In office:

1955 - October 9, 1959

Preceded by:
Clement Attlee
Succeeded by:
Harold Macmillan
Chancellor of the Exchequer
In office:

March 9, 1951 - May 27, 1955

Preceded by:
Ernest Bevin
Succeeded by:
Rab Butler
Biography
Born:

April 9 1906, London, United Kingdom 

Died
January 18 1963, London, United Kingdom
Nationality:
British
Political party:
Labour
Spouse:

None

Children:
None
Alma mater:

New College, Oxford

Occupation:
Politician
Religion:
None (atheist)
Hugh Gaitskell was a British politician who served as Prime Minister (1959 - 1963). He was the first British Prime Minister to die in office since Lord Palmerston in 1865.
Gaitskell led the Labour Party to victory in 1959. He introduced many socially liberal reforms, including the legalisation of abortion and homosexuality, and the abolition of the death penalty.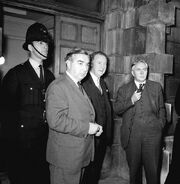 Early Life
Early Political Career
In March 1951 Bevin was forced to resign due to ill health. Gaitskell replaced him as Chancellor of the Exchequer.
Opposition Leader
Prime Minister
The Winter of 1962-3 was particularly harsh causing huge strain on infrastructure and increasing unemployment in many areas. Labour's position in opinion polls went from average to abysmal. The week before his death Labour was at 33%, the Conservatives at 48%. To remedy this Gaitskell sought to introduce a major cabinet reshuffle in the Spring of 1963.
Gaitskell Ministry
Prime Minister - Hugh Gaitskell
Deputy Prime Minister - Aneurin Bevan
Chancellor of the Exchequer - Harold Wilson
Foreign Secretary - Aneurin Bevan
Home Secretary - Patrick Gordon Walker
Defence Secretary - George Brown
Colonial Secretary - Jim Griffiths
Health Minister - Roy Jenkins
President of the Board of Trade - Tony Crosland
Education Minister - Barbara Castle
Transport Minister - James Callaghan
Aviation Minister - Denis Healey
Science and Technology Minister - Tony Benn
Social Security Minister - Margaret Herbison
Changes:
March 1960 - Aneurin Bevan resigns as Foreign Secretary, replaced by George Brown. John Strachey replaces Brown at Defence
July 1960 - Bevan dies, Brown succeeds him as Deputy Prime Minister
February 1961 - James Callaghan replaces Jim Griffiths as Colonial Secretary, Griffiths becomes Welsh Secretary
March 1962 - Patrick Gordon Walker replaces Brown as Foreign Secretary, Brown replaces Walker as Home Secretary.
Legacy
Gaitskell still remains the leading figure on the right wing of the Labour Party.
Ad blocker interference detected!
Wikia is a free-to-use site that makes money from advertising. We have a modified experience for viewers using ad blockers

Wikia is not accessible if you've made further modifications. Remove the custom ad blocker rule(s) and the page will load as expected.