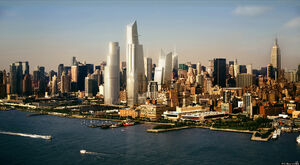 The 
Hudson Yards Complex
, more commonly 
Hudson Yards
, is an area of New York City inhabited by monumental skyscrapers used for several different purposes. The Complex began construction in 1998 after several New Yorkers pushed for further development of unused plots of land across New York, with the Hudson Yards being one of them. Construction on the Complex was halted in 2001 after the August 12 attacks, and much of the funding initially intended for the Complex was redirected to the United Nations building on the other side of Manhattan. Construction resumed in 2003 and the Complex was officially completed in 2007. Today, the buildings each have connection to New York City Subway and serve as a major transportation hub as a connection from New York to New Jersey.
Ad blocker interference detected!
Wikia is a free-to-use site that makes money from advertising. We have a modified experience for viewers using ad blockers

Wikia is not accessible if you've made further modifications. Remove the custom ad blocker rule(s) and the page will load as expected.