Hubert Horatio Humphrey (May 27, 1911 – January 13, 1978), also referred to as HHH or Triple H, was an American politician who served as the 36th President of the United States from 1961 to 1973, making him the longest serving president in U.S. history. Known for his leadership during the Reintegration Era, he saw to the readmission of a majority of former Confederate states, as well as the integration of the former provinces of the Dominion of Canada and the Dominion of Acadia. Humphrey is also credited for establishing the Transnational Highway System and Amrail, with the former creating better roads for transportation and the latter consolidating the many bankrupt railroads of America. Humphrey is regarded as one of the U.S.' greatest presidents due to his ability to compromise with Democrats and his calm demeanor during times of crisis.
Hubert Humphrey was born in Wallace, Dakota and attended the University of Minnesota prior to earning his pharmacist license from the Capitol College of Pharmacy in 1931. He helped run his father's pharmacy until 1937 when he returned to academia, graduating with his masters from University of Michigan in 1940, where he was a political science instructor. He returned to Minnesota months before World War II and became an avid supporter of Al Smith's New Beginning.
Amidst the outbreak of the Second World War, Humphrey joined the United States Navy and became a naval pharmacist aboard the USS Dakota, briefly serving occupation duty outside of Charleston, South Carolina. Humphrey left the Navy in 1946 as a Lieutenant and ran for Mayor of Minneapolis months later as a Socialist.
Presidency
First Term
Second Term
Third Term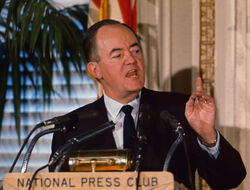 Humphrey's third term would be marked by the outbreak of the Second Pacific War a year earlier. While the president said he wanted to expand his United Society, Humphrey expressed that the war was more important and needed to direct most of his attention to the war effort; similarly to Al Smith during World War II. By the end of 1969, over 200,000 more troops were sent to the Pacific.