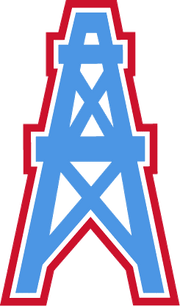 The Houston Oilers are a professional American football team based in Houston, Texas. The Oilers compete in the National Football League (NFL) as a member club of the American Football Conference (AFC) The team began play in 1960 in Houston, Texas as a charter member of the American Football League (AFL). The Oilers won the first two AFL Championships, and joined the NFL as part of the AFL–NFL merger in 1970. They would go on to win two consecutive Super Bowls against the Dallas Cowboys from Superbowls XXVIII-XXIV.
Ad blocker interference detected!
Wikia is a free-to-use site that makes money from advertising. We have a modified experience for viewers using ad blockers

Wikia is not accessible if you've made further modifications. Remove the custom ad blocker rule(s) and the page will load as expected.