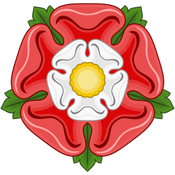 The House of Tudor was a royal house in Kingdom of England of Welsh origin. The House was the ruling dynasty in England from 1485 until 1601. Its first monarch was Henry VII, a descendant through his mother of a legitimised branch of the English royal House of Lancaster. The Tudor family rose to power in the wake of the Wars of the Roses, which left the House of Lancaster, to which the Tudors were aligned, extinct.
The House went extinct with the death of Isabella Tudor, who attempted to claim the throne after the death of her sister. The house was succeeded by the House of Habsburg through Anne's marriage to the Spanish monarch, Philip II, as well as the House of Valois through Mary, Queen of Scots' marriage to Francis II of France.
Members
Monarchs
Ad blocker interference detected!
Wikia is a free-to-use site that makes money from advertising. We have a modified experience for viewers using ad blockers

Wikia is not accessible if you've made further modifications. Remove the custom ad blocker rule(s) and the page will load as expected.