The following Premyslid Bohemia page after 1400 is under construction.

Please do not edit or alter this article in any way while this template is active. All unauthorized edits may be reverted on the admin's discretion. Propose any changes to the talk page.
House of Plantagenet
was royal house that ruled England. It's origaneted from House of Anjou with Geoffrey Plantagenet, son of Fulk of Anjou. This line then split among three brothers: Henry, Geoffrey of Nantes and William X of Poitou. Henry became succesor after death of Stephen of Blois. While Geoffrey and William died without heir, Henry II and his line remaind to year 1893 when it was succeded by House of Maras and it had four branches: House of York, Dukes of America, House of Bohemia and House of Hungary (succeded Bohemian kings and Hungarian kings).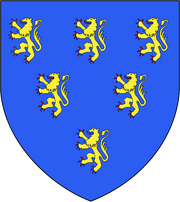 Succesions of each house
Plantagenet line
American Line
Hungarian line
Ad blocker interference detected!
Wikia is a free-to-use site that makes money from advertising. We have a modified experience for viewers using ad blockers

Wikia is not accessible if you've made further modifications. Remove the custom ad blocker rule(s) and the page will load as expected.