The flag of Horchoi
This flag has a strange combination of colors. The background color is Horchoi green, while the sun is red. And the sun is probably rising, it's red and is above what appears to be clouds, which are all shades of purple. Thus the sun, the circle, logically represents a new dawn, a better future, et cetera.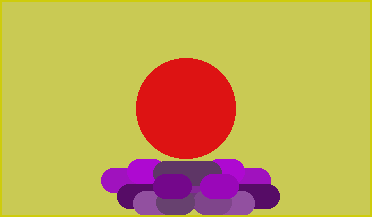 The flag of Horchoi under Chra Ptolemey
It is nearly invisible, but the tiny border in the color of Chra Ptolemey was really added on the flag, as usual. One can only wonder why they didn't change the border so it would be better visible.
Ad blocker interference detected!
Wikia is a free-to-use site that makes money from advertising. We have a modified experience for viewers using ad blockers

Wikia is not accessible if you've made further modifications. Remove the custom ad blocker rule(s) and the page will load as expected.