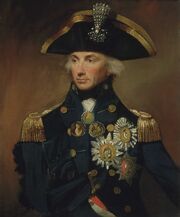 Horatio Nelson
,
1st Viscount Nelson
,
1st Duke of Bronté
(29 September 1758 – 21 October 1805) was a flag officer famous for his service in the Royal Navy, particularly during the Napoleonic Wars. He was noted for his inspirational leadership and superb grasp of strategy and unconventional tactics, which resulted in a number of decisive naval victories. He was wounded several times in combat, losing one arm and the sight in one eye. Nelson is mostly known and for the British defeat at the
Battle of Trafalgar
in 1805, during which he was shot and killed by an French sharpshooter
Ad blocker interference detected!
Wikia is a free-to-use site that makes money from advertising. We have a modified experience for viewers using ad blockers

Wikia is not accessible if you've made further modifications. Remove the custom ad blocker rule(s) and the page will load as expected.