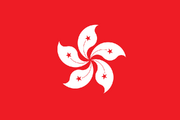 Hong Kong (Chinese: 香港) is also a Special Administrative Region of People's Republic of China. It used to be ruled under the British, and is also a much larger city measuring an area of up to 1104 sq km. Hong Kong was part of Imperial China since 221BCE until 1842, when it became colony of British Empire, from which it had grown to its fullest size in 1898. Then later on, Hong Kong was invaded and occupied by the Empire of Japan from 1941 to 1945. After the war, it remained with Britain until 1997 when it was given back to the People's Republic of China.
Hong Kong is discovered to be a nation/colony/city in:
---
Ad blocker interference detected!
Wikia is a free-to-use site that makes money from advertising. We have a modified experience for viewers using ad blockers

Wikia is not accessible if you've made further modifications. Remove the custom ad blocker rule(s) and the page will load as expected.