Holly Berman

Biography
Born:

May 4 1929, London, UK

Died:

January 20 2003, Los Angeles, California

Nationality:

British (1929 - 1959)

American (1959 - 2003)

Political party:

Conservative (UK)

Democratic (1960 - 1967)

Republican (1968 - 1982)

Independent (1982 - 2003)

Spouse:

Arthur Millburgh (1949 - 1952)

Name:
Alma mater:
Occupation:
Actress, Businesswoman
Religion:
None
Berman was born in London in 1929. Her father, Sir Albert Berman (1890 - 1946) was a conservative MP and 2nd generation Austrian immigrant. Her mother Eleanor (1899 - 1958) was a former suffragette whose political ideology had taken a swift move to the right. Her parents both joined the British fascist party in 1935 and moved even further to the right. In 1937 she was sent off to board at the Kilgare Girls Academy in Scotland. Whilst there she developed a talent for acting and dancing and in 1942 she joined the junior royal acting academy at Stratford. In 1946 her father was killed during a bombing raid.
In 1947 she moved to the senior academy and soon began appearing in Shakespearian plays within the area, playing Juliette in the famous 1948 production of the famous play. She also appeared in numerous other productions before appearing as queen Eleanors maid in Laurence Olivier's 1949 film of Henry V.
Due to her mother's diplomacy in November 1949 Holly married conservative MP Arthur Millburgh (1914 - 1977). The two were never really close and had little in common. Whilst Berman continued to appear in films, she gradually got bigger and bigger roles. However she wasn't getting the star billing she so desperately wanted. In 1952 however she was spotted by Hollywood producer Burt Malone and immediately left for Hollywood. By this time she was already well known within British theatre going audiences and was a familiar face in the small British film industry.
Holly arrived in New York in April 1952 and within the month arrived in hollywood. Realising that she would be unable to see her husband now that her career involved her staying in another country, Berman divorced him in May. She was signed to Eagle Pictures and featured in her first American film, Attack The Bridge, alongside Gregory Peck. The film was a success and Berman was rushed into a series of major roles as the lover, or wife, of the main character but rarely as the romantic lead.
This all changed when in 1953 she was cast in the starring role of The Princess Bride as a princess who falls in love with three men (Journalist Forrest Bogart, Soldier Mitchell Morrison and Singer Frank Sinatra) and is unsure which to marry. The film was a box office smash and became one of the highest grossing films of 1953. She also appeared in the war romance Rat-at-at-at although this was less successful.
Her next film was the 1955 classic, Eleanor Goodchild. Playing the British servant's daughter who develops a talent for dancing, thanks to the inspiration of her teacher and the love of her boyfriend (Chris VanDoom). During the making of this film the two began an affair and cohabited but did not marry, the relationship lasted until 1959. Eleanor Goodchild was so successful that a 1958 sequel was made, still starring Berman but this time with an all-star cast. The film charts the further success of Goodchild in a successful acting career, but the more famous she becomes, the less she cares for her family and friends. The sequel was so successful that it was filmed in color
In between these two great movie successes she appeared in only one other film. The Winter Agony told the story of a Russian heiress during the early 19th century, and her dealings with various army officers and aristocrats to get herself a decent place in the new Russia. The film met with little acclaim at the time, and was overlooked, but has since become a newly discovered masterpiece. In 1961 the final chapter of the Ellie Trilogy was completed and Berman declared she would not appear in any more of the films, stating "the films are very good, and have been enormous fun to make, but i think the character should be layed to rest now, as a series of three unique masterpieces.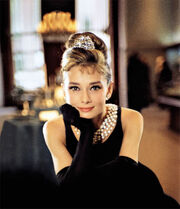 | | | |
| --- | --- | --- |
| Movie | Role | Year |
| Henry V | Alice | 1949 |
| The Strange Story of Sir Simon Smith | Agatha, Duchess of Borbania | 1950 |
| The Cabworth Street Gang | Betty | 1951 |
| Severance | Angel #2 | 1951 |
| Attack The Bridge | Hilda Mason | 1952 |
| Norbert's News | Joan | 1952 |
| The Princess Bride | Princess Fiera | 1953 |
| Rat-at-at-at | Susan | 1953 |
| Eleanor Goodchild | Eleanor Goodchild | 1955 |
| The Winter Agony | Katarina Uzbenikov | 1956 |
| A Star Rises | Eleanor Goodchild | 1958 |
| Ellie | Eleanor Goodchild | 1961 |
| Carnavale | Maria | 1962 |
| Morning Sun | Valerie | 1963 |
| Lovers Lust | Audrey Jaccion | 1963 |
| Portobello Road | Beryl Cattlingwood | 1965 |
| Napoleon | Josephine | 1972 |
Ad blocker interference detected!
Wikia is a free-to-use site that makes money from advertising. We have a modified experience for viewers using ad blockers

Wikia is not accessible if you've made further modifications. Remove the custom ad blocker rule(s) and the page will load as expected.