Since the independence of the former province of Quebec, many events in the world had been changed, in accordance to our timeline, after being influenced by the single event of the birth of the Republic of Quebec. If Quebec so did gain its independence, then many happenings throughout the world, day by day, would change slightly, and then gradually, would change greatly. Here is a list of those exact happenings.
The Progression of the Internet
2000 presidential elections in America
9/12 attacks
Princess Diana
Princess Diana narrowly escaped her fate on the night of August 30, 1997. By some circumstance, her driver, Henri Paul, had decided he was intoxicated, and refused to drive Diana and her company to the apartment in Rue Arsène Houssaye. In order to avoid the paparazzi, Dodi Fayed decided to stay at the Hôtel Ritz, and arrange for a special escort. At 1:30 AM, their car arrived, Diana and Fayed where accompanied by Trevor Rees-Jones, a member of the Fayed family's personal protection team, who sat in the front passenger seat. they proceed down the Place de l'Alma underpass, where a white van cut them off, nearly sending them into the side wall. The driver, Joseph Courimer, managed to regain control over the vechile in time to prevent a head-on collision. The car was damaged on the side where Diana sat, after the car slid along the side of the wall. A black car behind them, carrying paparazzi photographers, hit the car on the rear, sending the car 30 feet from where it stop. Diana suffered a broken ankle, and two broken ribs. The driver was left unscratched, and Dodi Fayed suffered from a fractured femur and two broken fingers. Emergency services arrived and took Diana and Foyed from the vehicle, and they were driven to Hôpital des Invalides. She was treated for her injuries, yet had suffered mental and emotional damage. She receive numerous session of therapy, for her injuries and her mental state.
In March of 1998, she decided to leave Europe, and moved to New York City, where she made fewer public appearances. She had stopped seeing Fayed two months after the crash. During her time in New York, she would frequently spend time writing her autobiography and eating health foods, exercise regularly, and shop at Macy's once a week. Her sons, , Princes William and Harry, would visit her regularly once every month for three days. When the September 12 attacks of 2001 occurred in New York, she made her first public appearance for 15 months. She had decided to visit the survivours and the workers at the World Trade Center site, along with the Mayor of New York, Rudi Giannani, Irish musician Bono, and President Al Gore, whom Diana had supported in the 2000 presidential election.

Diana currently lives. Diana has inherited money of her own and collected more than £25 million, tax-free, from her two divorce settlements, but her lifestyle is expensive to maintain. She requires extensive security and travels by chauffeured limousine and private jet, to avoid certain journalists and paparazzi that follow her on scheduled flights. Her autobiography, Queen Of Hearts, is was published on May 2007.
War in Afghanistan
2004 presidential elections
War in Iraq
2007 Iranian Revolution
2008 presidential elections
‹ 2004  2012 › ›
United States presidential election, 2008
November 4, 2008
Nominee
John McCain
Barack Obama
Party
Republican
Democratic
Home state
Arizona
Illinois
Running mate
Mitt Romney
Joe Biden
Electoral vote
324
214
States carried
28
23 + D.C.
Popular vote
63,160,257
59,611,506
Percentage
51.5%
48.5%
Presidential election results map. Red denotes states won by McCain/Romney (28), Blue denotes Obama/Biden (23 + D.C.).
The 56th quadrennial United States presidential election was held on November 4, 2008. Outgoing Republican President George W. Bush's policies and actions and the American public's desire for change were key issues throughout the campaign. During the presidential election campaign, the major-party candidates ran on a platform of change and reform in Washington. Domestic policy and the economy eventually emerged as the main themes in the last few months of the election campaign after the onset of the 2008 economic crisis. The subsequent policies of the Bush Administration had made a negative impression on the American voting public (with less than %41 approval rating), and on those reasons, George W. Bush had decided to refuse to run for a second term on March 23, 2008. In the following months up to the final Republican primaries, the party went though rigorous attempts as to find a candidate for the upcoming election in November. John McCain was eventually selected.
Republican John McCain, the senior United States Senator from Arizona defeated Democrat Barack Obama, then junior United States Senator from Illinois. Nine states changed allegiance from the 2004 election. Each had voted for the Republican nominee in 2004 and contributed to McCain's sizable Electoral College victory. The selected electors from each of the 50 states and the District of Columbia voted for President and Vice President of the United States on December 2, 2008. Those votes were tallied before a joint session of Congress on January 7, 2009. McCain received 324 electoral votes, and Obama 214.
There were several unique aspects of the 2008 election. The election was the first in which an African American had run for President, and the first time a Roman Catholic had run for Vice President (Joe Biden, then-U.S. Senator from Delaware). It was also the first time two sitting senators ran against each other. The 2008 election was the first in 56 years in which neither an incumbent president nor a vice president ran — Bush had refused to run for a second term, and Vice President Dick Cheney chose not to seek the presidency. Additionally, it was the first election in which both major party candidates were born outside of the lower 48 states. Voter turnout for the 2008 election was the highest in at least 40 years.
News footage of McCain's victory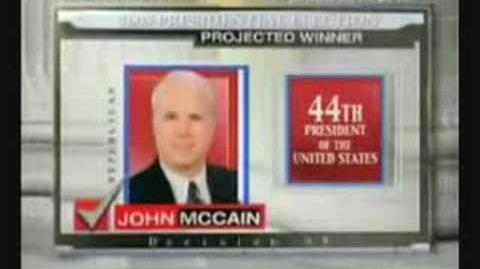 2009 War in Iran
Year by Year
1995
October
November
December
1996
January
February
March
April
May
June
1997
1998
1999
2000
2001
2002
2003
2004
2005
2006
2007
2008
2009
2010
Cite error: <ref> tags exist, but no <references/> tag was found
Ad blocker interference detected!
Wikia is a free-to-use site that makes money from advertising. We have a modified experience for viewers using ad blockers

Wikia is not accessible if you've made further modifications. Remove the custom ad blocker rule(s) and the page will load as expected.