Hiram Johnson

Vice President of the United States
In office:

March 4, 1913 - March 4, 1917

Preceded by:
Vacant (Last held by James S. Sherman)
Succeded by:
Charles Evans Hughes
29th President of the United States
In office:

March 4, 1901 - March 4, 1909

Preceded by:
Grover Cleveland
Succeded by:
William Howard Taft
Governor of California
In office:

January 1, 1899 - December 31, 1900

Preceded by:
Unknown
Succeded by:
Unknown
Biography
Born:

October 27 1858, New York City, New York

Died
January 6 1919
Nationality:
American
Political party:
Republican
Spouse:

Alice Lee (1880 - 1884)

Edith Carrow (1884 - 1919)

Children:
Alice, Theodore, Kermit, Ethel, Archie, Quentin
Alma mater:

Harvard University

Columbia University

Occupation:
Soldier, Writer, Buisnessman, Politician
Religion:
Non-denominational Christian
Hiram Johnson was an american politician who served as Vice President of the United States (1913 - 1917) under Theodore Roosevelt.
Early Life
Governor of California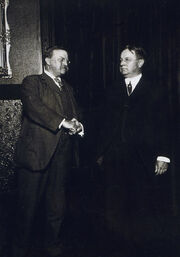 Vice Presidency
Ad blocker interference detected!
Wikia is a free-to-use site that makes money from advertising. We have a modified experience for viewers using ad blockers

Wikia is not accessible if you've made further modifications. Remove the custom ad blocker rule(s) and the page will load as expected.