High Impact Games
Founded
2003
Headquarters

Burbank, California

,

USA

Industry
Developer

High Impact Games is a video game developer owned by Universal. This developer specializes in making handheld games.
History
High Impact Games was founded in 2003 by members of Naughty Dog and Insomniac Games. Soon purchased by Universal, the company began making handheld games for their existing franchises.
The company would take until February 2007 to release their first game, a spinoff of the Ratchet & Clank series named Size Matters for the Game Boy Nitro. The game, which was essentially a scaled down version of the console series, was well received, with scores of about 8/10 from most reviewers and about 3 million sales. Another game in the series, titled Secret Agent Clank, which focused on the partner of the duo's main man, was released in June 2008. A parody of the espionage genre, this game received notably worse reviews and sales. Likewise, Jak and Daxter: The Lost Frontier, which was released in November 2009, had relatively poor sales and reviews.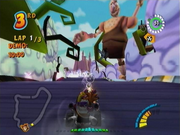 After two failures to make an acclaimed platformer in a row, High Impact Games made a transition to the Racing genre. Their first racer, a remake of the Saturn classic Crash Team Racing, would be released on August 2, 2011. Although by no means a great hit, with merely decent reviews, the game sold well over a million copies on the Revolution and Pluto combined. In 2012, the new Crash Team Racing engine was used to make a tie-in game for Universal's latest The Fast and the Furious movie. This game was released for the Game Boy Nitro, Game Boy 3DS, and various mobile devices in various forms.