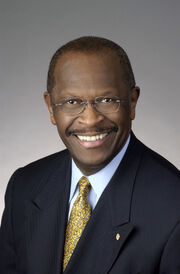 Herman Cain
(born December 13, 1945) is an American businessman, Republican Party politician, and former Vice-President of the United States, under President
John McCain
(2009-2013). Cain was the first African American to hold this position.
Cain is known for his conservative politics, especially in economics. The media often calls him the "equalizer," balancing out the more-liberal spirited members of the McCain administration and the legacy of the Kerry-era.
Cain is also more conservative in Cold War politics. On his visit to the Kremlin in 2009, he met Soviet deputy chairman Viktor Zubkov and foreign minister Sergey Lavrov. Cain assured the United States' intentions for peaceful coexistence, yet he stated that they will make all necessary steps if needed, to defend free democracy around the world.
Cain was criticized because of his Red Scare past, being the member and outspoken supporter of several anti-Communist organizations in the 1980s and 1990s.
Ad blocker interference detected!
Wikia is a free-to-use site that makes money from advertising. We have a modified experience for viewers using ad blockers

Wikia is not accessible if you've made further modifications. Remove the custom ad blocker rule(s) and the page will load as expected.