Henry of Carinthia/Henry the Worst/Henry of Bohemia
is one of main figures in
Premyslid Bohemia
timeline, he was son of
Meinhard, Duke of Carinthia
and his wife
Elizabeth of Bavaria
.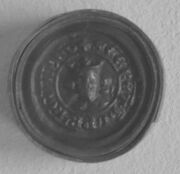 He ruled with his brothers Otto and Louis. This, however, angered him as he wanted to have all power. Later he outlived them, but he still wanted more power, he saw that Bohemian king Wenceslaus III didn't have an heir and none of his sisters were married. He planned many things which turned out bad, but then when Wladyslaw I the Elbow-High (Premyslid Bohemia) tried ti separated Poland from Bohemia under his rule and angered Wenceslaus III got on his way with his army he called up Conrad of Bolštejn and promised him great lands if he kills Wenceslaus. When Wenceslaus stopped in Olomouc on August 4, 1306 Conrad tried to murder Wenceslaus but was captured. This angered Henry and he tried another plan, war union with Wladyslaus, marriage to Anna of Bohemia and telling angered Wenceslaus (thinking Conrad was send by Wladyslaus) that Wladyslaus planned war attack on Bohemia. This caused war between Poland and Bohemia Henry through in war union didn't attack Bohemia as all being part of big plan. He wanted to send for another murderer, but when Conrad escaped from prison and killed Wenceslaus anyway, with his three sons being to young, Henry became regent. Since then he tried to delayed Conrad's reward as he could. But never giving Conrad promised land afterwards was biggest mistake, Conrad wasn't that stupid and for this killed him as well on April 10, 1315. Important to say is even through he only ruled for two months without any connection to Premyslid as he killed his wife and blame it on Wladyslaus when she tried to stop the war he was such terrible ruled that The Worst is used mostly after his name. His second wife Adelheid later married Conrad making him a king.
Ad blocker interference detected!
Wikia is a free-to-use site that makes money from advertising. We have a modified experience for viewers using ad blockers

Wikia is not accessible if you've made further modifications. Remove the custom ad blocker rule(s) and the page will load as expected.