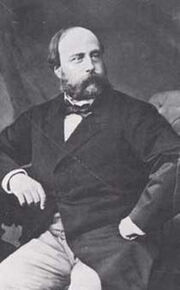 Henry V (Henry Charles Ferdinand Mary, French: Henri Charles Ferdinand Marie) was King of France. Before that, he was styled comte de Chambord and duc de Bordeaux.
He was born on 29 September 1820 in the Tuleries Palace, Paris, a son of Prince Charles Ferdinand of France (who died before Henry's birth) and his wife Princess Carolina of Naples and Sicily. He became King of France upon the death of his paternal uncle, Louis XIX, on 3 June 1844. He died on 24 August 1883 in the Palace of Versaille, Paris.
He married on 7 November 1846 to Archduchess Mary Theresa of Austria (1817-1886), daughter of Duke Francis IV of Modena and his wife Princess Mary Beatrice of Savoy, having no issue.
He was succeeded as King of France by his distant cousin and brother-in-law, John III.
Ad blocker interference detected!
Wikia is a free-to-use site that makes money from advertising. We have a modified experience for viewers using ad blockers

Wikia is not accessible if you've made further modifications. Remove the custom ad blocker rule(s) and the page will load as expected.