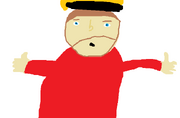 Henry VIII was born the second child of Henry VII, He was 7 when his brother, Arthur I came to the throne.
His Life
Arthur I made his life miserable during Arthur's Reign. He had to live with him in his master bedroom even though he was rich. When his brother died he was happy.
Timeline
1686 - Born
1693 - Father dies
1700 - Coronation
1735 - Therition
1770 - Death
Born : 1686
Coronation : 1700
Baptized : 1770 August 13
Death : 1770 August 14
Predecessor : Arthur I
Successor : Arthur II
Ad blocker interference detected!
Wikia is a free-to-use site that makes money from advertising. We have a modified experience for viewers using ad blockers

Wikia is not accessible if you've made further modifications. Remove the custom ad blocker rule(s) and the page will load as expected.