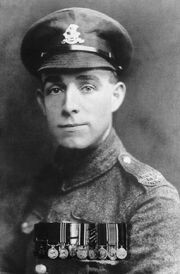 Henry Tandey DCM, MM (born 30 August 1891) was the most highly decorated British private of the First World War. He shot Adolf Hitler at the end of WWI on September 28th 1918, shortly after the battle at Marcoing.
Ad blocker interference detected!
Wikia is a free-to-use site that makes money from advertising. We have a modified experience for viewers using ad blockers

Wikia is not accessible if you've made further modifications. Remove the custom ad blocker rule(s) and the page will load as expected.