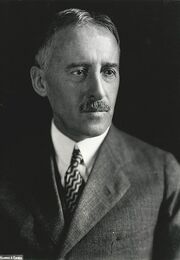 Henry L. Stimson was born in New York City in 1867. He came from a wealthy family, known for its financial support for the republican party. In 1880 he was sent off to boarding school and 4 years later, to Yale University. At Yale Stimson excelled in philosophy and law and came first in his class. He graduated after only 18 months and in 1886 went to Harvard Law School. At Harvard Stimson performed very well, becoming a fully qualified lawyer at the age of 20 in 1888.
Despite lucrative offers from many prestigious legal companies and a position as assistant district attorney for New York City (quite an astounding offer for a 20 year old) Stimson opted to continue his education further, heading to the University of Ontario. There Stimson spent much of his time studying, but did not enter for any qualifications. It was whilst at Ontario that he was hired by Root Legal Services, as an attorney. Stimson moved back to New York, and in 1892 he became a partner in the company. He befriended the companies founder and owner, Elihu Root, a friendship that was to become useful later.
In 1900, Stimson was chosen by New York governor Theodore Roosevelt, as assistant state attorney general, an offer Stimson now accepted. Stimson became a strong advisor to Roosevelt, and helped him with his efforts to bring down the boss system and reform the New York state republican party. In 1904 Stimson was promoted to New York State Attorney General.
In 1909, when Roosevelt was elected President, he selected Stimson as assistant secretary of war, under William H. Taft. When in 1912 Taft split from the republican part, Stimson became secretary of war. In this post, he continued Roosevelt's policy of "Iron Defense" and continued military reforms. Stimson also clearly drew the line between the responsibilities of the secretary of war, and those of the army chief of staff, a line that had become significantly blurred under his predecessors.
When the crisis of 1914 happened, Stimson was much more moderate that Roosevelt and Root (now secretary of state). Stimson advocated a more limited war with France alone, and that Germany should not receive any US arms. But after war was declared Stimson became much more closely aligned with his commander in chief. Stimson personally oversaw much of the logistical efforts to getting US troops to Europe, and the war department's regulation of factories capable of producing arms.
In the early months of the war, Stimson held a number of meetings with Winston Churchill, to organise Anglo-American cooperation in as many ways as possible. Stimson also met frequently with General Pershing, establishing a good working relationship. Stimson undertook several so called "Battle Tours" in which he personally would visit every divisional command post on the front line in Europe.
Ad blocker interference detected!
Wikia is a free-to-use site that makes money from advertising. We have a modified experience for viewers using ad blockers

Wikia is not accessible if you've made further modifications. Remove the custom ad blocker rule(s) and the page will load as expected.