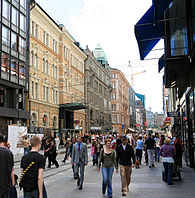 Helsingfors (Finnish: Helsinki) is the largest city in Finland and the second largest city in the Kingdom of Sweden. It is also the capital of Helsingfors County and the seat of the governor-general of Finland.
The city has about 600,000 inhabitants, of whom most are Swedish-speaking. Finnish is the mother tongue of about 35% of the inhabitants. Since the 1940's, many Swedish-speakers from the western parts of the Kingdom has moved to Helsingfors.
Helsingfors City is a constituency in the elections to the house of commoners.