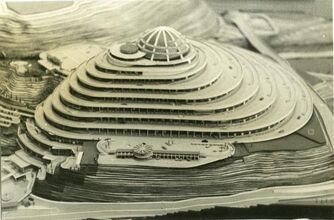 The Helicoide is the biggest Mall in Latin American, and an icon in all America.
History
Its construction was undertaken agreeing with then president Marcos Perez Jiménez in 1956 in convergence with the plan of modernization of Caracas, the work finalize his first stage in 1961. It was designed by the architects Jorge Rosemary, Pedro Neuberger and Dirk Bornhorst. It has a commercial center and exhibition of industries, a 5 stars hotel, a park, a club of proprietors and in seventh level a palace of spectacles. The particularitity of the work was that the automobiles once entered to the construction by means of inclines in her would be the commercial premises with parking, these inclines would cross 4 km in six levels bordering the hill on which it was constructed. Then it was added a Highway to the University City of Caracas, the gardens made by Roberto Burle Marx, and a Mausoleum to Simon Bolivar in the Hill next to it.
Sections
Hotel
Coming Soon
Park
Coming Soon
Club
Coming Soon
Mall
Coming Soon
Gardens
Coming Soon
Mausoleum
Coming Soon
Palace of Spectacles
Coming Soon
Ad blocker interference detected!
Wikia is a free-to-use site that makes money from advertising. We have a modified experience for viewers using ad blockers

Wikia is not accessible if you've made further modifications. Remove the custom ad blocker rule(s) and the page will load as expected.