The flag of Hedji
The background is Hedji brown, and on it, is a golden circle, representing a new dawn and a better future and things like that. If there is one flag where it is without doubt that the circle is supposed to be a sun, this flag is it. Not much can be said about this flag, it is what it looks like.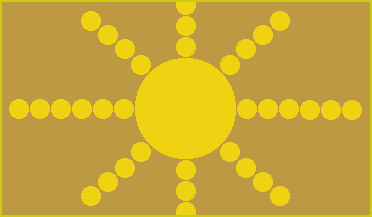 The flag of Hedji under Chra Ptolemey
As usual, Chra Ptolemey added a thin border in their (Chra Ptolemaic) color around the flag.