The Heard Island and McDonald Islands are an Australian external territory and volcanic group of barren Antarctic islands.
Discovered in the mid-19th century, they have been territories of Australia since 1947 and contain the only two active volcanoes in what is now ANZC territory, one of which, Mawson Peak, is the highest mountain in all of the ANZC.
The group's overall size is 372 sq km (144 sq mi) in area and it has 101.9 km of coastline. The islands are uninhabited.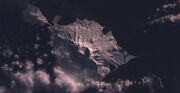 Ad blocker interference detected!
Wikia is a free-to-use site that makes money from advertising. We have a modified experience for viewers using ad blockers

Wikia is not accessible if you've made further modifications. Remove the custom ad blocker rule(s) and the page will load as expected.