Harry S. Truman
Timeline: 6-2-5 Upheaval


Harry S. Truman as President

President of the United States
April 12, 1945 – January 20, 1953

Predecessor
Franklin D. Roosevelt
Successor
Douglas MacArthur
Vice President
Alben W. Barkley

Vice President of the United States
January 20, 1945 – April 12, 1945

Predecessor
Henry A. Wallace
Successor
Alben W. Barkley
President
Franklin D. Roosevelt

US Senator from Missouri
January 3, 1935 – January 17, 1945

Born
May 8, 1884
Lamar, Missouri, US
Died
December 26, 1972
Kansas City, Missouri, US
Political Party
Democrat
Religion
Southern Baptist
Profession
Tailor, Haberdasher
Harry S. Truman was an American President. He aceeded to the Presidency in 1945, as Franklin D. Roosevelt died in office, and would go on to be re-elected in 1948 over Thomas Dewey. After trying for a third term in 1952, he was defeated by Douglas MacArthur, ending his political career.
His time as President of the United States was dominated by the end of World War II, the start of the Cold War between NATO and the Bucharest Pact, and the Korean War.
Early Life
Truman was born in 1884 in Lamar, Missouri, to middle-class farmers. His early life was quite lackluster. He served in a variety of clerical jobs, including at a few Democratic Party events, but eventually joined the army in 1917 to serve in World War I.
In the War, he was elected to be the First Lieutenant of his battery, and made connections with some Democratic political bosses. Later promoted to Captain, Truman led his battery in battles in the Vosges Mountains. Later fighting as a part of the Meusse-Argonne Offensive saw further success on Truman's part.
Politics
Truman returned from the First World War with a decent amount of political connections, and in 1922 (after a failed attempt at running a tailor business), Truman was elected to serve as County Judge for eastern Jackson County, Missouri. This was his first political position, and from there he was elected Presiding Judge of Jackson County in 1926.
It was in this position that he aided the reconstruction of the city with public works once the Depression had erupted. Truman then went on to head the Civil Work Administration's Federal Re-Employment Program for Missouri.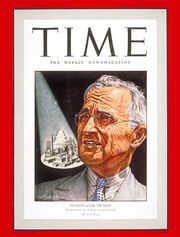 Senator From Missouri
Truman, who wasn't sure of his political future, received a blessing when a local political boss chose him as the Democratic nominee for the Senate in 1934. In the 1934 Senate election, the Republican incumbent, Roscoe C. Patterson, was extremely unpopular, and Truman was elected with over a 20% margin. Truman would spend his first term in relative anonymity, but won a re-election in 1940, by only a 1% margin.
Truman, who was the Chairman of the Subcommittee on Military Affiars, used his position to investigate corruption in the nation's military spending as the country got ready for war. The "Truman Committee" gained national fame, and made Truman a leader of the Democratic Party.
Vice-Presidency
As President Roosevelt's health was in decline, the nominee for the Vice-Presidency in 1948 was considered to be the successor to Roosevelt. Henry Wallace, Roosevelt's Vice-President prior to Truman, was widely unpopular with conservatives, so the party leaders chose to find a new candidate for the Vice-Presidency. Truman was chosen for his work with the Truman Committee.
Truman and Roosevelt rarely communicated while they served in the Executive Branch together. They met alone only two times, and Truman was unaware of many operations like the Manhattan Project. When Roosevelt died on April 12, 1945, Truman was sworn into office as President of the United States of America.
First Term (1945-1949)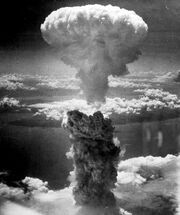 With World War II still raging, Truman met with Clement Attlee and Joseph Stalin in the Potsdam Conference to determine the results of the war. Truman's first major decision came with the use of atomic weaponry on the Japanese cities of Hiroshima and Nagasaki which ended the Second World War but triggered the Cold War.
After World War II ended, the US economic market faltered a bit as it transitioned back into a peacetime state. A number of labor union-led strikes took place, which set the stage for the Second Red Scare. In 1946, Truman's unpopularity led to a Republican majority in the Congress.
In foreign affairs, Truman was the first Cold War president, and developed the US position in the Berlin Blockade. Truman also recognized Israel, starting positive relations between the two nations.
Election of 1948
Due to Truman's relative unpopularity and some internal calls for him to step down, his re-election was always considered to be a longshot. Truman's Democratic Party was splintered by the conservative campaign of Strom Thurmond and the progressive campaign of Henry Wallace.
Despite public opinion and general understanding of how the election would end up, Truman ended up winning in a relatively successful victory over the Republic candidate Thomas Dewey, even with 39 traditionally Democratic electoral votes going to the Dixiecrat candidate Strom Thurmond.
Second Term (1948-1952)
Truman's second term saw an improvement in public opinion at first, and Truman brought a Democratic majority back to Congress. The Korean War was the major focus during Truman's second term. Erupting on July 25, 1950, Truman sent General MacArthur from Japan to handle the invasion of South Korea from the communist North Korea.
Creation of NATO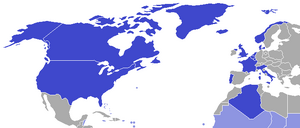 Franklin D. Roosevelt, Truman's predecessor as President of the United States, laid the foundation for
NATO
with the
Atlantic Charter
with
Great Britain's
Winston Churchill
. 1948's 
Treaty of Brussels
 was seen as the immediate precursor to the North Atlantic Treaty, and was part of a movement called "Atlanticism" which was in favor of US and European cooperation.
Truman was one of the main proponents of NATO, especially in the United States. He appointed Dwight D. Eisenhower as Commander of NATO, a role which has since been filled only by American generals.
NATO experienced some mild resistance by Americans who felt that the organization was committing the US to entangling alliances which had traditionally been avoided since the days of George Washington, but the anti-Communist movement largely kept these complaints quiet.
Korean War
The primary event of Truman's second term was the Korean War, which spanned exactly one year and saw the successful repulsion of the communist North Koreans from the Republic of Korea. The United States, aiding their Korean allies, then launched a successful counterstrike at the head of a UN-sanctioned army and annexed the whole of Korea.
Truman's role in the Korean War has been debated long since the...
Second Red Scare
1952 Presidential Election
After Office