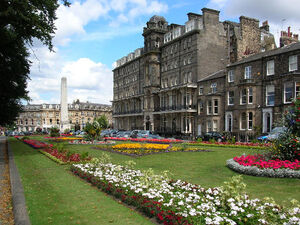 Harrogate is the administrative capital of England, situated in southern Yorkshire in Northumbria. It was moved from London in 1993 when England was federalised. Harrogate has a capped population of 280000, having grown as a result of careful planning over a period of about a decade. It has its own administrative county, the English Capital District, which is situated on the edge of North Yorkshire. It has a direct railway line to London and the M1 was extended to it from Leeds, though since wheeled road vehicles are rarely used this really takes the form of a fairly loosely maintained clear stretch of fenced-off ground with a central reservation rather than a tarmacked road.
History of the Capital idea
It was first suggested that the capital of the United Kingdom be moved at the end of the first New Elizabethan decade. The grounds for this idea were that the South of the UK was dominated by a congestive and inefficient "Great Wen" of a capital - London - whereas the North (and in actual fact the North of England seems to have been what the proponents of the idea had in mind at the time due to their Anglocentrism) lacked the economic stimulus of that same capital. It was noted that London-based industries were unlikely to move due to the fact that they were industrial and required considerable investment, but that the "industry" of government could be moved much more practically. This process had also occurred elsewhere in the world, for example in the USA, Brazil and West Germany.
The major obstacle to this decision was the Civil Service, which preferred to be able to use the facilities available in the South. This problem was considerably alleviated by the availability of cheap rapid rail and other surface transport between the North and the South. The break up of the UK in 1993 also made it possible to "threaten" the Civil Service with redundancy in order to act as a "stick" to persuade them to move up north.
Harrogate was chosen as it was a relatively wealthy and picturesque town rather than a less attractive large industrial city, although it has grown massively since being chosen. This growth has, however, been carefully planned and the town is now of medium size and is generally considered a very pleasant place to live.
Ad blocker interference detected!
Wikia is a free-to-use site that makes money from advertising. We have a modified experience for viewers using ad blockers

Wikia is not accessible if you've made further modifications. Remove the custom ad blocker rule(s) and the page will load as expected.