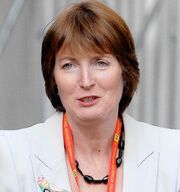 Harriet Ruth Harman
(born July 30, 1950) is a British Labour Party politician, who served as Prime Minister of the
United Kingdom
between 2010 and 2013. She succeeded former Prime Minister
Tony Blair
.
Harman was a supporter of social democrat economic policies, and is desperate to fight the overall economic depression in the UK. However, many criticized her for not being able to successfully initiate reforms. The conservative Tory party and the far-right British National Party are both often openly bashed her in the media during her reign.
Harman resigned in 2013 after the fateful public poll which led Scotland to leave the United Kingdom. Her resignation was mostly seen by the public as an acceptance of guilt in the matter. She was succeeded as Prime Minister by Tory party leader John Major. SInce her resignation, Harman left politics to pursue a career in the private sector.
Ad blocker interference detected!
Wikia is a free-to-use site that makes money from advertising. We have a modified experience for viewers using ad blockers

Wikia is not accessible if you've made further modifications. Remove the custom ad blocker rule(s) and the page will load as expected.