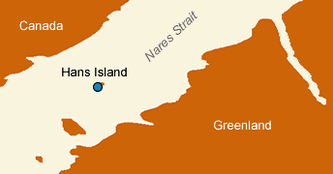 Hans Ø, also known as Hans Island, is officially a part of Denmark since 2005.
History
The first presence of the Danes was in 1920s, when the Danish "Celebration Expedition" of 1920 to 1923 accurately mapped the whole region of the Northern Greenland coast from Cape York (Kap York) to Denmark Sound (Danmark fjord).
In 1933, the Permanent Court of International Justice declared Greenland in favour for Denmark, and as Hans Island was on Greenland territory it was carried over by extension.
Later, the 1973 Treaty drew a line in the maritime boundary of both Greenland and Canada, then sent to the UN in the same year. It was enforced in 1974 by the UN. The Treaty lists 127 points to form the border, however, there is no line from point 122 to 123, because of Hans Island being in the way of the two points.
Since then, Hans Island has been long claimed by the Danish and Canadians.
Though, in 1991, after the USSR and USA collapsed, Canada leaned away from Hans Island and focused on gaining land. The Danes took advantage, and decided to get some support to finally have Hans Island under their rule.
In 2005, Denmark with the support of Poland and the Eastern European Union, fought a brief war with Canada over the island. The brief war lasted for 23 days, ending in Danish victory.
Since then, Hans Island is effectively a part of Denmark.
Ad blocker interference detected!
Wikia is a free-to-use site that makes money from advertising. We have a modified experience for viewers using ad blockers

Wikia is not accessible if you've made further modifications. Remove the custom ad blocker rule(s) and the page will load as expected.